Comics / Comic Reviews / DC Comics
Zatanna #1
By Andy Frisk
May 23, 2010 - 13:11
Zatanna, daughter of the Golden Age magic based hero Zatara, gets her own ongoing series and wastes no time getting involved in the evil Brother Night's ("a fake hippie mystic who discovered a darker way to power by trafficking in human souls") attempts to violently take over the mundane world's San Francisco based mob empire. Zatanna, being quite possibly the most powerful Homo Magi (a race of humankind genetically disposed to being powerful magic users) in the DC Universe serves all mankind as a heroic defender of the good against the denizens of the dark side of the mystical world. While Brother Night himself isn't much of a challenge for Zatanna, one of his allies in particular just might prove to be…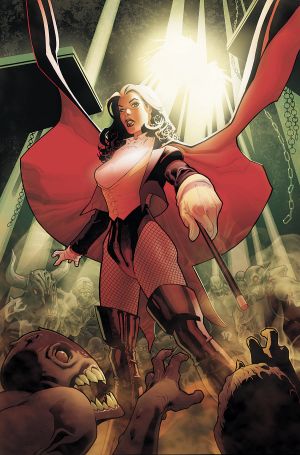 Zatanna has been around for a long time (she debuted in 1964) and has had a pretty interesting career as one of the DCU's main magic based characters. Writer Paul Dini, tasked with bringing her to the forefront by penning her first ongoing solo series, has a pretty sizable task ahead of him. Zatanna has all the elements needed to succeed in the superhero world. She has a cool costume. She has plenty of back story (especially where her father is concerned), and she's got a nearly omnipotent superpower (which has been put to controversial use before—see Secret Identity Crisis). The DCU's magic based characters don't usually fare too well though. The Spectre, Dr. Fate, The Demon, and (the more recent) Shadowpact all fail to support long term solo series. Can Zatanna break this mold? Outside of putting her into a mature reader format, like Madame Xanadu over at DC Comics' Vertigo imprint, it's hard to say.
Zatanna does have a few other things going for her though. She's a hottie. Hot chick superheroes can draw readership with their looks (see Power Girl) especially when they use their superpowers to undress themselves for a bath and magically float bath items around themselves, which are strategically placed to avoid full nudity (as artist Stephane Roux depicts in the final pages of Zatanna #1). A character cannot survive on hotness alone though, a girl needs some character. Like Power Girl as well, Zatanna has some solid writing and artistic talent in her corner. Veteran writer Paul Dini knows how to build character in his subjects, and knows how to bring out what's best about them. For Zatanna, Dini focuses on her incredible power. Brother Night's cronies are absolutely no match for her, and Zatanna effortlessly crashes their den and runs circles around them magically. Hey, the girl can do nearly ANYTHING magically (not totally unlike The Spectre), so seeing her kick some butt is pretty fun. As a long term DC Comics' reader, I never really though of Zatanna as being so powerful, and Dini brings this aspect of her to the fore, at least here in issue #1. She will have a harder time with Brother Night's new ally though, which is revealed at the end of issue #1.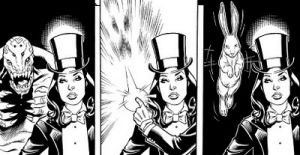 Artist Stephane Roux's artwork is solid, and he does a great job of creating fluid panel flow while depicting both regular world settings, full of sharp background detail, and magical crime scenes and hideouts with unsavory creatures and beings. Of course, his anatomy work is excellent (if not a bit exaggerated—especially in Zatanna's case—but not quite as comically as in the aforementioned Power Girl's case).
Hopefully, as the series progresses we'll get to see some of Zatanna's dense back story explored, while watching her beat up on the magic world's bad guys. A little "real world" magical foes like demons, cultists, and the like might prove interesting as well. Time will tell how Zatanna pans out, but it's off to a decent start.

Rating: 7.5 /10
Last Updated: January 24, 2022 - 11:00