Comics / Spotlight / Progressive Panels
Jamal Igle from Supergirl to Zatanna
By Andy Frisk
December 20, 2010 - 21:17
Long tenured Supergirl penciller Jamal Igle, who along with long tenured writer Sterling Gates, turned Supergirl and its star from a boring and lifeless title and character into one of the best written, drawn, and critically acclaimed titles published by DC Comics, will be penciling Zatanna monthly as of issue #11. Zatanna is one of those unique DC Comics characters who is magic based AND has her own series. Most of the magic based characters in the DCU don't fare very well as far as ongoing series go. Several interesting and underused magical characters abound right now in the DCU. Shadowpact, Dr. Fate, Zauriel, The Spectre, Ragman, and now even Madame Xanadu herself (her series recently being cancelled from DC Comics' Vertigo imprint's monthly schedule), are all currently in limbo. They pop up here and there (Nightmaster was recently awarded a one-shot appearance—most likely to keep publishing rights to the name current), but rarely seem able to either support their own ongoing series or garner the right mix of artistic and writing talent to build a solid readership. Zatanna has a sufficient mix of quality back story and physical appeal to hopefully attract enough readers (and keep them), so perhaps some more of the DCU's magic based characters might be given another chance as well, perhaps after a well placed cameo or two... Madame Xanadu definitely had what it took to be successful with writer Matt Wagner and penciller Amy Reeder at the helm though, so bringing in a talent like Igle will not be all it takes to widen the appeal of Zatanna as a character and series, but with veteran scribe Paul Dini doing a good job thus far crafting Zatanna's monthly adventures and a great regular artist finally being assigned to the book, the sky might just be the limit for this title.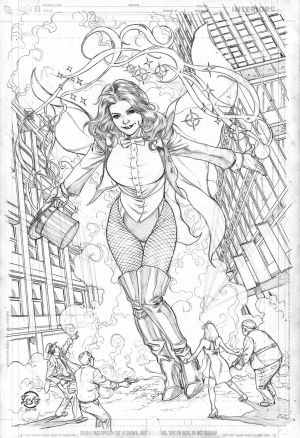 A taste of Igle drawn Zatanna greatness to come...
Zatanna has had some superb artists working on it since its inception several months ago. Stephane Roux, Chad Hardin, Wayne Faucher, and Jesus Sais have done a great job on their respective issues, but the series lacked a solid month to month look that provides the consistency necessary to bring a reader back month after month. This is what Igle's pencil work on Supergirl had done. Every month, Supergirl's readers knew that high quality work, from an artist who was very well versed in his character's look and appeal, was going to be delivered. Igle's various renderings of Supergirl have become as iconic as the late Michael Turner's have. This is not to say that one was better than the other of course, but it is to say that when an artist really stays with a project for a while and builds up a strong sense of what works and what doesn't work well visually for the character he or she is penciling, the character's overall appeal (and profitability) grows exponentially. Again, Jamal Igle's run on Supergirl, to me at least, will always come to mind when classic runs by artists on a series are the topic of discussion and the focus of fond memories.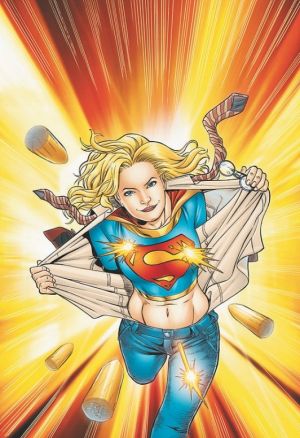 The best image of Supergirl ever? Fun and cool...
So, a long tenured writer/artist combo really is the key (along with a great supporting cast) to building up and keeping fresh a long running character with plenty of history. Some might argue that this assertion is a bit of an oxymoron. How does having the same old writer and artist on a series keep it fresh and new? It's true that sometimes new artists and writers are needed to inject an old character with new life, but when one considers some of the best books in publication right now like Northlanders, a series with the same writer for the entire series (who also happens to be the creator of the series) and a small sampling of changing artists (who complete an entire storyline at a time), consistency of writing and art can really build a grand legacy and make for great reading. Zatanna might just be the next great read with a grand legacy.

Last Updated: January 24, 2022 - 11:00