Comics / Comic Reviews / DC Comics
Superman: War of the Supermen #0
By Andy Frisk
May 1, 2010 - 22:50
We've had New Krypton, World Without Superman, World Against Superman, World of New Krypton, Last Stand of New Krypton, and finally The War of the Supermen is upon us. For fans of superhero comics and the greatest of comic book superheroes, it has been a great few years. Geoff Johns, James Robinson, Sterling Gates, Greg Rucka, Eric Trautmann, and a host of other talented writers and artists have crafted what has been one of, if not the, best Superman epic to ever be told in sequential art form. War of the Supermen (WOTS) will be the climatic movement of this epic symphony of stories.
DC Comics' Free Comic Book Day 2010 offering kicks off the final confrontation between Superman and Zod with a bang as Superman bursts his way into Zod's underground military headquarters on New Krypton. Zod is in the early stages of launching his attack on Earth, and Superman is determined to stop him. He's not up against only Zod though. Ursa and Non stand ready to defend their general…
Superman is unable to do much besides exchange a few blows and harsh words with Zod, but the stage is set. We do catch a glimpse of the awe inspiring force aligned against Earth though. Zod is determined to destroy Earth and exact his final revenge against the House of El. He, not so shockingly, willingly admits as much. For Zod this war is personal. WOTS #0, being a free giveaway, doesn't move too far into the main event action, and is a split tale. The second half of #0 recaps the past few years of Superman stories. It serves as a nice roundup/introduction to the events that lead up to Zod's declaration of war on Earth (via a narration by Lois Lane). It isn't all recap though, as a certain member of The Daily Planet, who hasn't been seen in a while, reappears…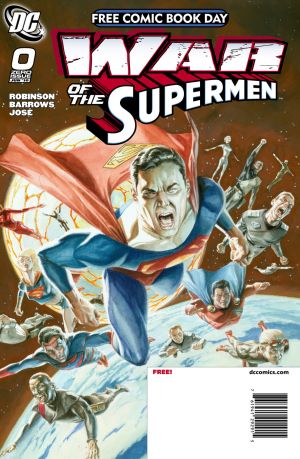 Artist Eddy Barrows admirably handles the penciling chores for the first half of the book. For "Filling in the Blanks," the second half, artists Julian Lopez, Aaron Lopresti, Dave Finch, Joe Weems, Gary Frank, CAFU, Ethan Van Sciver, Diogenes Neves, and Vincente Cifuentes all lend their considerable talents to the book by penciling a page each. All of these fantastic artists, who've worked on a Superman title or tie in book over the last year, showcase the great hands the world's greatest superhero has been in artistically.
All bets are off, and heroes and villains on both sides of the coming war are showing their true colors. The Superman Family of books have been among the best reads in comics over the past few years. Don't miss the action packed and intelligent climax to over a year's worth of storytelling. The War of the Supermen is upon us.

Rating: 8 /10
Last Updated: July 2, 2020 - 16:53