Comics / Comic Reviews / DC Comics
Superman: The Last Stand of New Krypton #3 (of 3)
By Andy Frisk
April 28, 2010 - 23:33
This series is titled Superman: The Last Stand of New Krypton, but in reality it could just as easily been titled The Fall of Brainiac or The Return of Luthor. Brainiac's ship is destroyed and he's defeated in combat, but Zod, Superman, Supergirl, and Superboy owe the victory to Luthor more than any of them realize, at first. In the eyes of General Lane, Luthor's contribution to Brainiac's demise is worthy of a Presidential Pardon…even though Luthor's actions will lead to a war between worlds?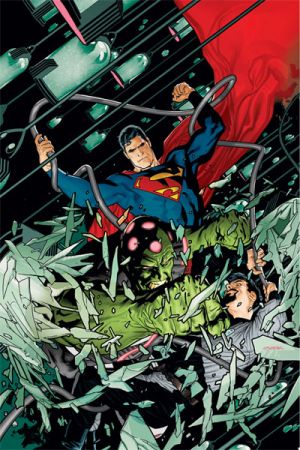 Plenty of action, near death experiences, and new intrigues comprise the wrap up to New Krypton's last stand. New Krypton really hasn't experienced its last stand though. Kandor was shrunk again, and restored, but beyond the death of many, many Kryptonians (including all of the Ruling Council-with the exception of Alura) at the hands of Brainiac, New Krypton remains relatively unscathed. Unfortunately, events that occurred and actions taken by several individuals (both human and Kryptonian) leave Generals Zod and Lane right where they want to be, ready to start a war that they both, for over a year's worth of storytelling, have been craving. The climatic events that will cap off the entire New Krypton storyline are primed to explode in the pages of the next Superman mini-series/event: War of the Supermen.
Pete Woods' art has always been exceptional, but he really put his all into this short series. He has redefined the look of one of Superman's arch enemies for a new generation of Superman stories and fans. Brainiac's tech has also been redefined and expanded by Woods. Brainiac's ship and robot drones are the perfect mix of the type of dark industrial and menacing sci-fi look that Star Trek Borg and Terminator tech inspire. The added dash of Matrix inspired tech completes Brainiac's look. It stands out in sharp contrast to the clear and brightly lit Kryptonian tech, especially as Woods crates page after page of epic looking shots of Brainiac's ship crashing into Kandor.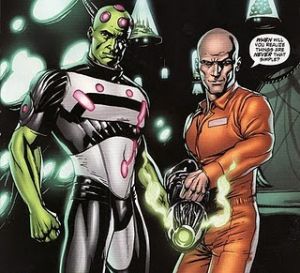 Luthor brandishing a very Matrix-like weapon.
While the current run of Superman stories rushes towards it climax, all of the pieces of the Superman mythos seem to be falling back into their proper places. Luthor is pardoned (thus paving his way back to living an open life in Metropolis) Mon-El will be away from Earth for a while, and inevitably New Krypton will have to go away some how. Johns, Robinson, Gates, and a whole host of talented writers and artists have taken us on a unique and great ride for the past few years with their Superman stories though, and fortunately it's not over quite yet.

Rating: 10 /10
Last Updated: July 2, 2020 - 16:53