Comics / Comic Reviews / DC Comics
Superman: Secret Origin #5 (of 6)
By Andy Frisk
April 7, 2010 - 12:36
Superman continues to help out around Metropolis. He saves potential burning building victims and even voluntarily meets with General Lane, who sees him as a very dangerous alien threat to the planet Earth. When Lane's invitation to a "little chat" turns into an interrogation which Superman will have no part of, Lane uses Superman's reluctance to be interrogated as an excuse to "…see what he (Superman) can do." Enter the US Army, and Metallo…
Superman is attacked by Luthor and Lane out of jealously and fear. While Clark Kent (as Superman) has done nothing but "try to help," Luthor and Lane are driven by their perceived "duties," which call for an elimination of this "strange visitor." Lois sees something else in Superman though, and continues to see "something else" in Clark as well.
Johns continues to craft a powerful and relevant retelling of The Man of Steel's origin that has much more to do with real world fears and dangers than flights of superhero fantasy. General Lane, a military despot in waiting, uses the "threat" of Superman to launch a military occupation of Metropolis as well as the offices of The Daily Planet. His highly unconstitutional deployment of US military forces on US soil is representative of contemporary fears of military deployment and terrorist events. These fears reflect and update what defines the "bad guys" in the Superman mythos. No longer is the corporate raider type, like the Lex Luthor of The Man of Steel 1986 reboot, the villain. Now it's unconstitutional right wing militants who retaliate to a perceived threat, aided by the brilliant but evil scientist/businessman Lex Luthor. Johns is dealing with some powerfully dramatic themes here that have no easy answers. Yes, Superman is here to help, but reactionaries like Luthor and Lane don't take the time to get to know the new superhero. Instead they opt for a preemptive strike, which is a very misplaced action in this instance.
All is not heady contemporary commentary though. There is humor in issue #5 of Superman Secret Origin. Clark saves Lois from the overbearing and unwanted advances of Sgt. Corben (the soon to be Metallo) by staring down "one of the deadliest soldiers in the US Army," according to Lois, further piquing Lois' interest in this strangely buffoonish, yet remarkably confident and insightful guy in the bad suit. When Lois starts asking the tough questions though ("Who are you? I mean really?"), Clark manages to buffoon his way out of answering in typical fashion with the usual, but still great, humor.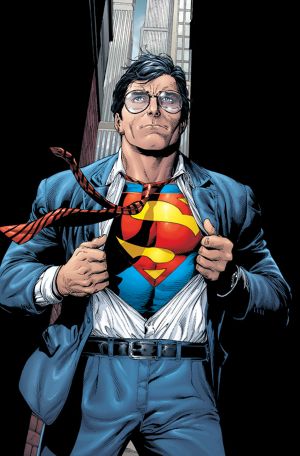 What more can be said of Gary Frank and his work on this series and previous Superman related titles? Nothing more than that he is simply at the top of his game in Superman Secret Origin and that is saying a great deal about his work. Every page of this book and every shot of its hero are iconic. Frank delivers a perfect mix of realistic looking costumes and outfits, realistic facial expressions and anatomy, and realistic looking sci-fi hardware, all set in a very realistic looking city and military installation. His fight choreography is top notch and he brings a whole air of Dark Knight (2008) realism to the work. Coupled with Johns' excellent and poignant storytelling, Christopher Nolan (in charge of heading up Superman's onscreen reboot) would be wise to consider looking hard at utilizing Superman Secret Origin as at least an inspirational starting point for the new Superman films.
With one more issue to go, Superman Secret Origin has plenty yet to accomplish and plenty threads to tie up. Like Superman World of New Krypton and the current overarching tale playing out in the Superman Family of books, Superman Secret Origin is destined to be a time honored classic. This is a must read for Superman fans, and fans of great comics alike.

Rating: 10 /10
Last Updated: July 2, 2020 - 16:53