Comics / Comic Reviews / DC Comics
Superman: Last Stand of New Krypton #1 (of 3)
By Andy Frisk
March 10, 2010 - 16:03
Brainiac's robots systematically attack New Kryptonian Council members and other specified targets as Zod, Alura, Kal El, and Ursa desperately search for a way to thwart Brainiac's invasion. When Zod fires the New Kryptonian Global Defense cannons at Brainiac's ship, killing several Military Guild soldiers engaging the ship who are caught in the crossfire, Commander El decides he's had enough. After confronting Zod over his needless sacrifice of good men, Kal rips the badge off his Military Guild uniform then shreds the uniform itself revealing his classic Superman costume underneath. As he leaps up determinedly into the New Kryptonian sky shouting "This is a job for Superman!" we as readers leap up joyously with him. Superman is back.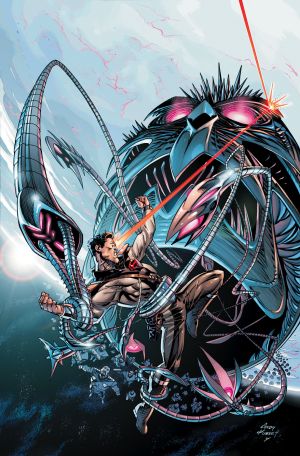 As Superman pounds his way through Brainiac's robots (who look like Terminators and shield themselves against heat vision blasts like Borgs do—just two of the many nods to various other sci-fi classics in this issue), he manages to get further and learn more about Brainiac's assault than Zod did with the massive expenditure of energy and loss of life resulting from his firing of New Krypton's Global Defense cannon (which resembles a blast from a Death Star). When the Legion of Superheroes, along with Superboy and Mon-El show up to help, Zod reveals that he'll consider no other approach to dealing with Brainiac besides his own, regardless of however many lives he sacrifices in order to do things his way. Gone is the progressively leaning Zod from the last issue of Superman: World of New Krypton, and in his place is the Zod of old.
Robinson and Gates' pace in Superman: Last Stand of New Krypton is much quicker than his and Rucka's was on Superman: WONK. Understandably, LSONK is only 3 issues long and things need to move along quick, but the speed with which Kal and Zod revert to polar opposites, Kal quits the Military Guild, and Brainiac wreaks destruction can throw the reader off a little and leave them in a bit of a tailspin as compared to their experience with the slowly (but not detrimentally) drawn out events of WONK. The climax of the whole overarching New Krypton storyline is fast approaching though, so events need to develop fast. As a more than fair trade off, we get loads of action and adventure.
Here's where Woods' wonderful work really pays off. He gives us some great full one and two page spreads of epic battle scenes and great, tight, panel filled pages that glow with tension and dramatic close ups. The pages depicting Kal and Zod's final confrontation of words shortly before Kal quits the Military Guild are particularly strong. The glowing red terminals of Zod's central command flanked by the red and blue city map holograms allow Blond's coloring talents to highlight Woods' art powerfully and emotionally.
The story about the beginning of the end of Kal-El's involvement with New Krypton as a member of its military, and what is perhaps the beginning of the end of New Krypton itself is under way. Judging from its opening salvo, Superman: LSONK #1, this storyline is going to continue to live up to the epic status the Superman Family of books are becoming renown for.

Rating: 10 /10
Last Updated: July 2, 2020 - 16:53