Comics / Comic Reviews / DC Comics
Superman #698
By Andy Frisk
March 25, 2010 - 21:44
Superman appears to be at the mercy of Brainiac and Luthor, who plan to make him watch and feel Brainiac subjugate Kandor to bottle size again…what the diabolical duo overlook though is Superman's indomitable will to "never stop trying," even in the face of seemingly overwhelming adversity. Meanwhile, Mon-El, guided by Tellus (the telepathic member of The Legion of Superheroes dispatched to liberate Brainiac's other captured bottle cities) battles his way through Brainiac's bots and some unforeseen adversaries…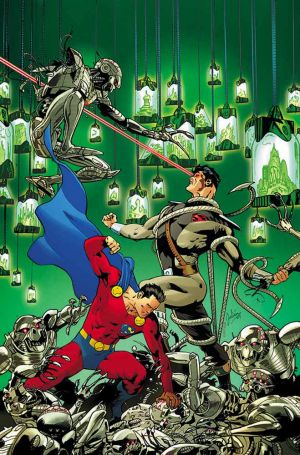 Near non-stop action, spectacular visuals, and a display of why Superman is the great hero he is comprise issue #698 of Superman, "The Last Stand of New Krypton Part 3: Destiny." While Superman spends most of the issue engaging in a battle of wills with Luthor and Brainiac, Mon-El engages in an all out brawl with Brainiac's henchmen and bots. The showcasing of Superman as a warrior of will as contrasted to Mon-El as a warrior of fists is a nice touch that showcases both heroes' abilities and maturity levels. This is not to say that Mon-El is particularly immature or lacking in will power (he did overcome the rigorous torturing techniques of General Lane recently), but foes like Brainiac and Luthor are most likely a bit out of his league and only the most experienced superhero in the DCU can effectively match wills with them. When Superman and Mon-El team up (you know they will), they will be a formidable challenge to Brainiac and Luthor regardless of their experience as heroes.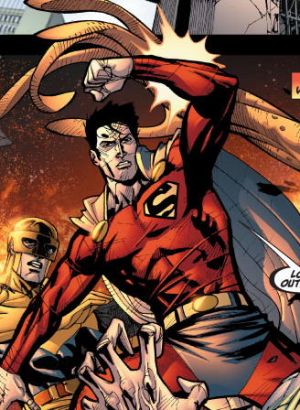 Chang's Mon-El from a previous issue.
Artists Pina and Chang form a sort of artistic tag team this issue with Pina penciling the pages starring Superman and Chang penciling those starring Mon-El. Both artists are accomplished and their work is nearly flawless. Pina portrays a dark sci-fi nightmare vision of Brainiac, his tech, and robotic constructs. The scenes inside his ship resemble a cross between Borg and Terminator tech. Chang's portrayal of Mon-El and his foes is more on the cartoonish side, but his portrayal of Mon-El is the best we've seen thus far (and that's saying a lot since there have been some really talented artists bringing us Mon-El's adventures thus far). In Chang's hands, Mon-El resembles a younger version of Superman who is tougher looking than Superboy, yet retains his refined look. He's more rugged and stronger looking than recent portrayals of him, which (while not poor by any accounts) made him look like a sort of "pretty boy" version of Superman. Overall, both artists do a great job and really put together a well paced and visually rewarding book.
After a year of character building, deep theme exploration, and political intrigue, the Superman Family of books are rocking out the action. Things will only get more action packed from here on out as New Krypton's Last Stand evolves into the War of the Supermen. You should be reading these books.

Rating: 8 /10
Last Updated: July 2, 2020 - 16:53