Comics / Comic Reviews / DC Comics
House of Mystery: Halloween Annual #1
By Andy Frisk
October 14, 2009 - 21:24
Designed as a special that introduces readers to a cross section of some of its award winning titles, as well as a new one, House of Mystery: Halloween Annual #1 makes its debut under DC Comics' Vertigo imprint, and what a debut it is. Vertigo, the long running DC Comics imprint that published Neil Gaiman's phenomenal and classic Sandman, and crime dramas like 100 Bullets, and continues to publish Hellblazer, and the also phenomenal Fables, has always ran a few titles, like some of the above mentioned, that focus on horror and the supernatural, so an annual based on a holiday that focuses on horror and the supernatural is a no brainer. House of Mystery: Halloween Annual #1 presents a string of interconnected stories which star lead characters from House of Mystery, Sandman, Hellblazer, the forthcoming I, Zombie, and Madame Xanadu. The interconnecting link is a mask, which serves as the issue's cover image, that after escaping from The Dreaming by being washed down the drain by Merv Pumpkinhead, travels a path of horror through the world and ends up in the House of Mystery where Fig (the title's protagonist) dons it for a Halloween party and ends up taking a storytelling trip to end all storytelling trips. The mask relates various tales to her that amount to a sensory overload. Each story involves the characters from the titles mentioned above and circumstances surrounding the mask and it powers.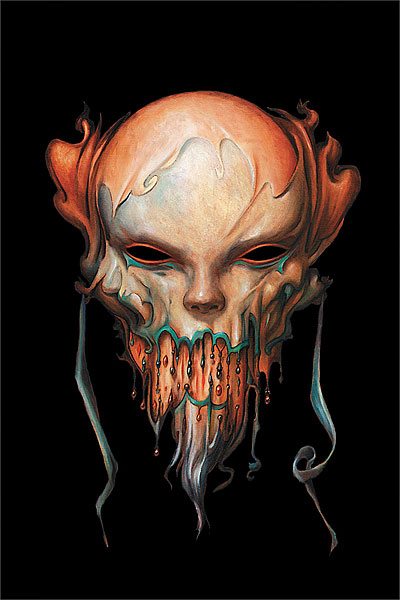 The Buckingham and Willingham penned story of the mask's escape from The Dreaming is a hilarious one centering around Merv Pumpkinhead's usurping of Lucien's, The Dreaming's Librarian, management of Halloween night's nightmares. Merv is the Dream King's Royal Palace janitor, and not exactly qualified to manage nightmares. You see, Merv likes a good stiff drink now and again, and even more importantly, likes playing bartender to his hard working nightmares. When the nightmares begin to enjoy too much drink between jobs (namely excusions into the dreams of sleeping men and women), things really start to get out of hand, and some really entertaining hilarity ensues.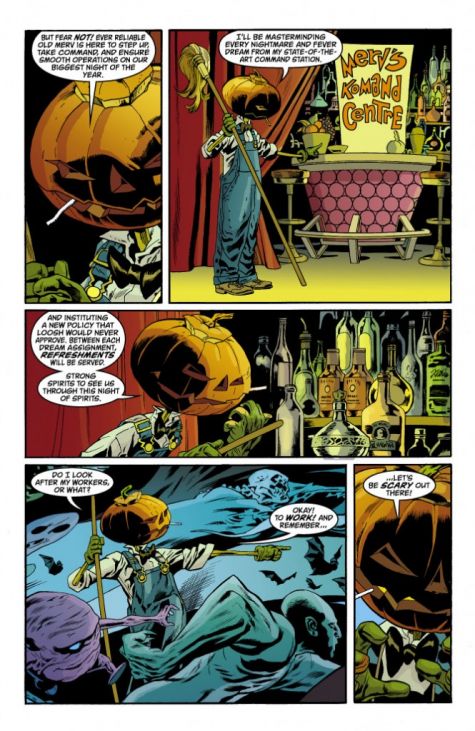 Peter Milligan, who's currently writing the latest and possibly greatest new Vertigo series, Greek Street, along with Hellblazer monthly, pens a tale of John Constantine's run in with the mask that dispels all the light hearted humor lingering in the air after Merv's misadventures. It's a tale of classic Hellblazer horror and evil that fits perfectly into the series' current storyline. It's a tale that stands well on its own, but will be of special interest to Hellblazer readers as Constantine's current mortal enemy, the old Babylonian god Julian (as she calls herself now) reveals her true horrifying form. It's a tale of bloody sacrifices, misspoken intentions, and heartache. In other words, it's a classic Hellblazer tale.
The Chris Roberson written and Mike Allred drawn snippet of the forthcoming I, Zombie doesn't reveal much about the lead characters besides the lead protagonist's sarcastic and ironic sense of humor. It's a scary enough tale to fit in with the Halloween mask theme, and it reveals just enough to interest readers in checking out the series when it debuts.
Finally, the Matt Wagner scripted and Amy Reeder Hadley drawn Madame Xanadu tale rounds out the mask's travels. A young misfit student stumbles upon the mask and immediately becomes addicted to its storytelling power. For a young girl who's looking to express how "different" she is from others her age, a trip through the truly different and horrifying lives the mask forces her to live nearly destroys her. Madame Xanadu though has foreseen these events and decides to take action.
Each tale, while written by different authors and drawn by different artists, transitions to the next effortlessly and manages to tell a complete story both thematically and dramatically. Each tale contains enough horror to make them worthy of inclusion in a Halloween special, but also highlights the strengths and uniqueness of each respective series' tone and artistic look. Each tale is penciled by its parent series' regular artist and marks the return of Amy Reeder Hadley to Madame Xanadu. Hadley's work on Madame Xanadu is absolutely fantastic, and her return to the series after a brief hiatus is much anticipated.
Overall, House of Mystery: Halloween Annual #1 serves as a great introduction to some of Vertigo's great series, and is a great Halloween-time read. For a line of comic books that focus a great deal of its series on the supernatural and horror, Vertigo finally delivers a Halloween special worthy of the Vertigo line. It was worth the wait.

Rating: 10 /10
Last Updated: August 31, 2023 - 08:12