Peter Milligan on Hellblazer and Greek Street
By Leroy Douresseaux
April 5, 2009 - 13:44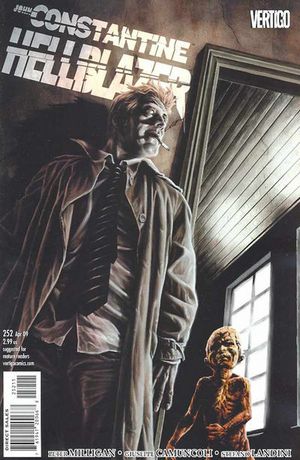 The cover of Hellblazer #252, Milligan's second issue as the series' new scribe.
If Alan Moore is, as some say, the father of DC Comics' Vertigo imprint, then, like Bissette, Delano, Gaiman, and Totleben, Peter Milligan is an influential and doting uncle – having written Animal Man, Enigma, and Shade the Changing Man. Milligan has been writing comics for decades. His early work was published in the seminal British comic magazine, 2000 AD, and in Eclipse Comics' anthology, Strange Days. Milligan's X-Statix series for Marvel Comics was the incorrigible child of the X-Men comic book line (and a fabulous child it was).
Recently, Milligan has taken the reigns of the long-running Vertigo series, Hellblazer, a woefully underappreciated comic book, and he's brought more trouble to the life of the series title character, John Constantine. Milligan answered a few questions about Hellblazer and also talked about his upcoming Vertigo series, Greek Street, in this Bin Q&A:
CBB: What is it about the character John Constantine and the series as a whole that attracts you to writing Hellblazer?
MILLIGAN: What's immediately appealing for me about Constantine's character is, I suppose, his darkness, and his bloody-minded grumpiness. He manages to be both cynical yet, strangely, seems to get so much out of life! In terms of Hellblazer, one thing that really intrigued me was its London setting. I live in London, and know it so well, and it's great to have a character move around a city you're so familiar with.
CBB: Would you mind describing your opening story arc, "Scab," and how it relates (if it does) to the general direction in which you plan to take Hellblazer?
MILLIGAN: 12 years ago there was a bad-blooded dockers' strike outside Liverpool. This fell apart when the union leader seemed to take a bribe from the bosses. In the present day, Constantine has a new girlfriend. Unfortunately he also has an extraordinary new skin complaint.
SCAB explores the link between this bizarre skin fungus and a largely forgotten chapter of British Trades Union history, forcing Constantine to confront yet another ugly chapter from his past.
CBB: Is there something you think hasn't been done with Constantine that you want to do or something already done that you want to further explore?
I want to explore some emotional levels of Constantine. I know that Garth had Constantine fall head in love with Kit, but really there's been no one special in Constantine's life since then. In the arc that runs through the next year Constantine will be constantly asking himself big questions about love, whether he's capable any more, whether he bloody well needs it.
CBB: In your recent "On the Ledge" essay, you mentioned the United Kingdom's recent economic and social woes. Will these troubles, at least metaphorically, play a part in your Hellblazer stories? Are these socially and economically unsettled times affecting you enough to be reflected in your writing?
MILLIGAN: It's something that's out there, and it will definitely be reflected in Constantine's world and the way he deals with it. These "woes" don't just belong to the U.K. so wherever he goes, it'll be part of the landscape. We may even find that toxic debts and credit crunches have reached certain levels of Hell.
CBB: Would you mind describing your recently announced new series, Greek Street? (a) What's the basic concept? (b) Who is the hero or protagonist? (c) Does he have an antagonist or huge obstacle to overcome?
MILLIGAN: Greek Street is a re-imagining of the ancient Greek Tragedies, played out on the rough red light streets of modern London. Greek Street has a large and varied cast – gangsters, strippers, Lords of the Realm – but our protagonist is a kid named Eddie. Eddie grew up in a series of children's homes, and when we pick him up he's decided to track down his real mother. This has far-reached consequences. The antagonists or obstacles that Eddie faces are manifold. To take an ancient Greek view of it, his biggest obstacle very often seems to be the machinations of Fate itself.
CBB: Who is drawing Greek Street and is that artist already influencing what you're doing with the series?
MILLIGAN: The artist is Davide Gianfelice. Davide's great. I wouldn't say he's exactly influencing the series, but I'm intrigued by Davide's take on London and Londoners. It doesn't look quite like anything I've seen before.
CBB: Sometimes a writer has to ask himself, "Will anyone care?" You have your reputation as an inventive and imaginative writer, so that generally makes people curious about your new work. Still, is there something about Greek Street that is so exciting to you that in turn might also excite readers, especially those unfamiliar with your work?
MILLIGAN: First of all, I think the more important question you ask yourself as a writer is "Do I care?" I feel very passionate about Greek Street. It's very unusual, and it's (I think) incredibly rich and complex and at times downright weird. Yet, at its heart is something and someone who's very human, very fallible. That's what fascinates and moves me about Ancient Greek tragedy: that it can reach out to us across all those centuries. For all the Gods and strange customs, it seems to be about what it is to be human, interacting with a less than perfect world. To be human in an imperfect world…how can anyone fail to be excited by that?
When the first issue of Greek Street eventually appears, it will reportedly be in an "oversized format" for the cost of $1. We thank Peter Milligan for participating in this Bin Q&A.
Last Updated: February 5, 2023 - 09:06