Comics / Comic Reviews / DC Comics
Rat Catcher (Vertigo Crime)
By Leroy Douresseaux
February 14, 2011 - 12:34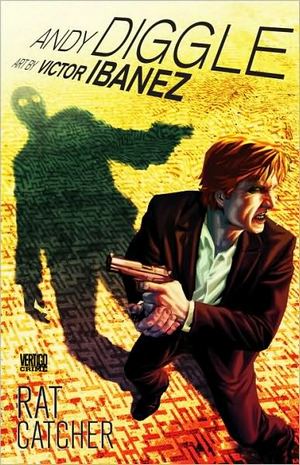 Rat Catcher cover image is courtesy of barnesandnoble.com.
Rat Catcher is a graphic novel from writer Andy Diggle (The Losers, Hellblazer) and Spanish artist Victor Ibañez, with black and white art. If my count is right, this is the sixth graphic novel released under the "Vertigo Crime" umbrella – the crime graphic fiction shingle of Vertigo, an imprint of DC Comics.
Rat Catcher is the first Vertigo Crime comic book that I've read, so I can't say how much it is like the earlier releases. What I can say is that Rat Catcher isn't crime fiction in that Donald Westlake/Jim Thompson way or even in that Raymond Chandler/Dashiell Hammett way. Rat Catcher is a crime thriller, or more specifically an FBI thriller.
Rat Catcher largely takes place in West Texas, the "badlands of West Texas," as the story and advertising for the book emphasize. A white supremacist, drug lord named Earl Rawlins rules supreme. Rawlins has just had an informant in his drug distribution system killed, and that killer is someone known as the "Rat Catcher." The Rat Catcher is sort of like a boogeyman story for FBI agents, a mysterious figure who kills people about to enter the Witness Protection Program after informing on Rawlins.
The chase begins in a burning Federal safe house with a pile of burning bodies inside. Soon two FBI Special Agents, William Lynch and Moses Burdon, are separately on a race to discover the truth. All the players in this game carry secrets, one more deadly than the others.
In a quote for Rat Catcher, Ian Rankin, a novelist who wrote the Vertigo Crime graphic novel, Dark Entries, says that "Moral ambiguities abound." Not really. In Rat Catcher, murder comes in two flavors: those who got it coming and those who are merely victims. This fast paced narrative focuses on shocking twists and turns and the sudden impact of a bullet, so it doesn't have time for ambiguity.
Rat Catcher feels like an action movie more than it does crime fiction of the prose or comic book variety. This is not a criticism. Diggle drops his readers into a clever ruse, and then, delivers the action movie thrills better than some action movies do. Although his storytelling is good, artist Victor Ibañez seems almost hard-pressed to keep up with Diggle's blood-fueled death race with his chunky graphic style. I do feel a bit shitty about saying this: Ibañez isn't a perfect fit for this story.
I don't know what other Vertigo Crime comic books are like, but I wonder if they raise hell like Rat Catcher.
B+
Last Updated: August 31, 2023 - 08:12