Comics / Comic Reviews / DC Comics
Cowboys (Vertigo Crime)
By Leroy Douresseaux
July 17, 2011 - 20:50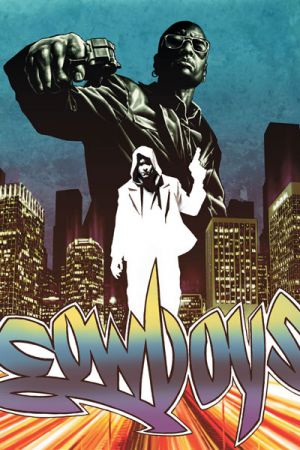 Lee Bermejo cover art for Cowboys, a graphic novel.
Cowboys by writer Gary Phillips and artist Brian Hurtt is the latest Vertigo Crime graphic novel. Vertigo Crime is the banner under which Vertigo (a DC Comics imprint) publishes crime fiction in comics form.
Cowboys is set in a large, Los Angeles-like city and focuses on law dogs who work at the street level. First, there is Deke Kotto, an African-American(!) street cop with an eye for the ladies, a bad marriage, and a tragic event that changed his family. Then, there is the straight-laced Tim Brady, an FBI agent with a good marriage. However, both serve demanding bosses. Captain Warren Tsong has his eye on being the next police chief, so he goads the versatile Deke, who can work both the gritty streets and the white collar suites, to deliver on big cases. Brady serves Special Agent-in-Charge Penmore, a racist fat ass who targets Muslims.
Tsong inserts Deke into the world of corporate espionage and white collar crime in order to snare Ian Scarpagio. Scarpagio runs Windscape Limited, a venture capital firm with some shady investors. If Deke, undercover as David Cates, can turn Scarpagio into a big arrest, Tsong believes his own big future is made. Penmore has targeted Imam Aziz, whom he believes to be a radicalized American convert to Islam. Aziz is related to Mig Coles, a record mogul who may be using his Jamm Joint Records for dirty business. Penmore would love to bring down these two successful Black men, and sends Brady in undercover to infiltrate Mig's empire as a Jewish wannabe player named Dan Roth.
Deke and Brady don't know each other. So they don't know that their separate assignments are actually connected. But is that connection tenuous or is it strong enough to strangle both men?
THE LOWDOWN: One could describe Cowboys as having an embarrassment of riches. There are too many characters, too many subplots, and too many settings. You can practically see artist Brian Hurtt's (Hard Time, The Sixth Gun) struggles to squeeze all the elements visually and graphically into the story. It seems as if some of the panels are near bursting from story elements packed in so tightly. There is enough material here to create an ongoing Vertigo comic book series or AMC television crime series.
I'm not criticizing it, though. Cowboys, for all its crowded narrative, is a rock-solid page-turner. There aren't many comic book writers who can offer both scenes of hardboiled crime action and moments of nuance and subtlety that tell a story within the main story, as Gary Phillips does. A good storyteller with a sturdy compositional sense, artist Brian Hurtt has the style and chops to dominate the crime comics genre.
Cowboys is simply a good read. It is a crime and character drama with lots of twists and turns, but best of all, it captures in a most surprising way the cynicism of our age. A justice system used as a personal fiefdom, innocent lives wrecked for naked ambition, and unabashed greed: one would think that Phillips and Hurtt were trying to write the great American novel. I'll settle for a really good American graphic novel.
POSSIBLE AUDIENCE: Fans of crime comics and Vertigo Crime must have Cowboys.
A-
Last Updated: February 5, 2023 - 09:06