Comics / Comic Reviews / DC Comics
Action Comics #846
By Geoff Hoppe
March 3, 2007 - 12:29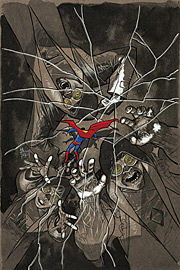 I've seen kids pound on the back of schoolbus windows like that. Who hasn't.

Richard Donner and Geoff Johns' engrossing "Last Son" arc enters its third chapter as Clark and Lois introduce Chris Kent—the Kryptonian boy who fell from the stars—as their newly adopted son. General Zod, brainless muscle Non, and gal-pal Ursa have other plans, however, that include raining delicious orange candy from the sky.

Johns and Donner continue to write what will doubtless be one of the year's best stories in comics. The phrase "labor of love" is a trite one that any critic should be wary of employing, but it's hard not to apply it here. Richard Donner's fascination with Kryptonian mythology gives a usually superficial character an epic depth. Thanks to an effectively brief two page tutorial on the Phantom Zone, dead Krypton becomes a living, breathing entity, capable of grabbing the reader's lapels, and pulling him into the saga of a long-dead civilization.

The permanent addition of Chris Kent-- the young "superboy"-- to the DC canon would be a major move. That's why I'm a tad wary of how this arc will finish. Will Chris Kent outlive the storyline? Is this story going to have long-reaching repurcussions? I sincerely hope he sticks around; it would be a tad cheap to introduce yet another Superboy, only to kill him off.

Adam Kubert, thank goodness, hasn't slacked off in his duties as penciler. His delicious contrast between detailed backgrounds and roughly drawn characters still lends a three-dimensional depth to his art. And, thanks to the brilliant layouts, we get to see Kubert's stunning ability to craft vistas.

There aren't enough good things to say about Dave Stewart. The man whose inspired color work routinely makes Hellboy a vermillion beacon in a black-grey, gothic world can also do wonders with green and orange: just look at the two page spread where an army of Kryptonian prisoners hurtle towards Metropolis.

Worth the money? Absolutely.
Last Updated: September 6, 2021 - 08:15