Time Stranger Kyoko: Volume 1
By Leroy Douresseaux
June 29, 2008 - 11:43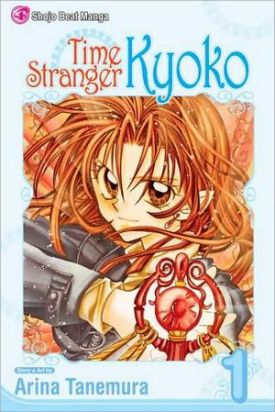 Thanks to barnesandnoble.com for the image to Time Stranger Kyoko 1.
Rated "T+" for "Older Teen"
In the 30th century, the entire planet is one country called Earth Nation, and Kyoko Suomi is the princess and heir to the throne. However, Kyoko lives among commoners, attends a normal public school, and refuses to ascend to the throne. She strikes a deal with her father. Kyoko can live as she pleases if she can awaken her sister Ui, who has been asleep – trapped in some kind of time warp since the sisters were born. Kyoko needs to find the 12 God Stones and the 12 telepaths that can manipulate them to free Ui.
In Time Stranger Kyoko, Vol. 1, Kyoko is confronted by her own selfishness. Her 16th birthday is rapidly approaching. It is the day when she will be formally presented to the public, but now crowds are rioting as she refuses her duty. If she does the right thing, she may find herself closer to the goal of reviving her sister and becoming a Time Stranger.
THE LOWDOWN: With such manga as The Gentlemen's Alliance † and I•O•N, manga-ka (creator) Arina Tanemura maybe the archetypal shoujo manga (girls' comics) artist. Her leads are generally teenage girls with large, expressive eyes that take up about one-third of their faces. Tanemura decorates her panels with flowers scattered like manic sound effects and jewel-patterned toning with just a hint of glitter. When people hold a stereotypical view of "girlish" manga and anime, they likely think of something like Tanemura's art.
Doesn't matter: Tanemura is quite good at what she does. She and her assistants (assuming she has any) must chain themselves to their drawing tables 24/7 to produce Tanemura's gorgeous, lush, detailed art. Like her other manga, Time Stranger Kyoko sends her characters on a journey of self-discovery; it's all about being confident and believing in oneself. Although Time Stranger Kyoko's fantasy scenario starts off slow, it's fun, light-hearted, and full of positive messages and kinda grows on you.
POSSIBLE AUDIENCE: Tanemura fans and young readers of quest-type fantasy.
B
Last Updated: June 23, 2021 - 00:45