The Gentlemen's Alliance Cross: Volume 8
By Leroy Douresseaux
December 1, 2008 - 11:39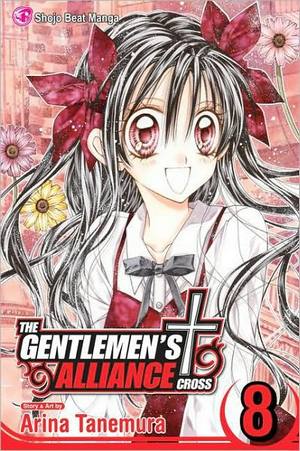 The Gentlemen's Alliance Cross 8 cover courtesy of barnesandnoble.com.
Rated "T+" for "Older Teen"
Haine Otomiya was not born into the prestigious Otomiya family. Her birth parents sold her to the Otomiya family to pay a debt. Haine grew into a juvenile delinquent, but after meeting and falling in love with Shizumasa Togu, Haine followed him to Imperial Academy, a private academy for the aristocracy. Haine joined the Student Council, where Shizumasa is "the Emperor, and struggles to find a place among the many secrets of these elite students.
The Gentlemen's Alliance †, Vol. 8 begins with the aftermath of the previous volume when Haine kissed Takanari Togu, the twin brother of Shizumasa. Haine suddenly pushes all that to the side to help her dear friend Ushio Amamiya, who seems intent on hurting herself. Ushio has had many boyfriends, but she was overcompensating because of her love for Haine. However, Haine's friends aren't about to let either young woman fall apart. Meanwhile, the mystery of Haine's past comes to light.
THE LOWDOWN: Any manga by creator Arina Tanemura (Full Moon, Wanted) is immediately attractive because of the gorgeous, ornately-textured art of Tanemura and her staff. This lush Pre-Raphaelite-like comic art is pure eye candy, but The Gentlemen's Alliance -Cross- (stylized as The Gentlemen's Alliance †) is more than just lovely, toned and patterned art. On the surface, it may appear to be a typical high school, romantic drama, like many shoujo manga (comics for teen girls). The Gentlemen's Alliance † is a dark character drama, with a story as rich as its art. Rife with competing character motivation and conspiracy, it puts the bite in dating drama.
POSSIBLE AUDIENCE: All shoujo fans should give The Gentlemen's Alliance † a try.
B+
Last Updated: August 31, 2023 - 08:12