The Gentlemen's Alliance Cross: Volume 2
By Leroy Douresseaux
June 2, 2007 - 11:07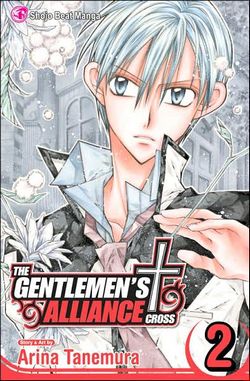 Thanks to barnesandnoble.com for the above image.
Haine Otomiya
is struggling to fit in at her new school, the
Imperial Academy
, a private school for the aristocracy, when she hits the jackpot. She gets the attention of
Shizumasa Togu a.k.a "The Emperor"
- the president of the student council. He makes her his "
Platinum
," which is essentially a fake girlfriend he uses to fend off other female suitors.
The Gentlemen's Alliance -Cross-, Vol. 2 finds Haine facing trouble on three fronts. There are the jealous rivals who want her position, and then, there are the former adversaries who have morphed into phony friends that want to be in Haine's circle of influence as "The Emperor's girlfriend." Then, there are the formers lovers of lover-wannabes of Shizumasa. Particularly bitter is Maguri Tsujimiya, a boy in love with Shizumasa. On one hand, he is angry with Haine for standing between him and The Emperor, and on the other hand, he sympathizes with her because of the difficult political and social position she holds as a "fake girlfriend," because he knows that Haine genuinely loves Shizumasa. But petty high school disputes are taking a backseat to the dark secrets that have come out of hiding. Who is Shizumasa? Does he remember that he's met Haine twice before in their young lives? And why does he hate her?
If there were a manga that exactly copied the melodrama of daytime soap operas, but for the teen audience, The Gentlemen's Alliance -Cross- could be it. It's for fans of shojo manga who like the backbiting and intricate conflicts of a good teen soap. Does it deliver? Early on, The Gentlemen's Alliance -Cross- is serviceable, but gets better as it goes along - if the reader has patience (although she won't need as much here as she needed for Volume 1). The tasty stuff is in the second half of this volume when so many delicious secrets come tumbling out of the candy dish. I won't reveal the best stuff, but I will say that Haine's cruel biological father saunters back into the picture.
Last Updated: August 31, 2023 - 08:12