The Gentlemen's Alliance Cross: Volume 10
By Leroy Douresseaux
September 29, 2009 - 11:43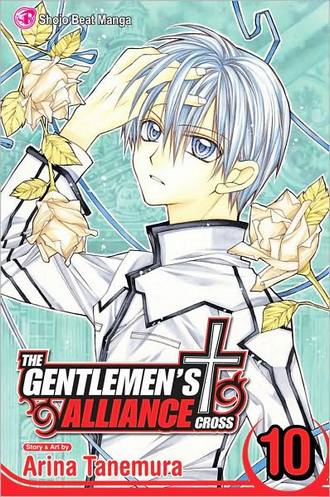 The Gentlemen's Alliance Cross Volume 10 cover image is courtesy of barnesandnoble.com.
Rated "T+" for "Older Teen"
Haine's birth parents sold her to the Otomiya family for the sum of 50 million yen, which they needed to pay off a debt. Haine Otomiya eventually became a juvenile delinquent. After meeting and falling in love with a boy named Shizumasa Togu, Haine's life changed. She followed him to Imperial Academy, a private academy for the aristocracy. Haine joined the Student Council, where Shizumasa is "the Emperor," but she struggles to find herself in the midst of its elite members. Everyone has secrets, including Shizumasa, who has a twin brother, Takanari.
As The Gentlemen's Alliance -Cross-, Vol. 10 (stylized as The Gentlemen's Alliance †) opens, Haine's family has been reunited, but she cannot completely elude family problems. Now, Haine finds herself entangled in the estrangements and dark secrets of the Togu Family. The twins Shizumasa and Takanari are at odds, and an ugly battle rages to see which one will win Haine. But who will she choose?
THE LOWDOWN: The treat of any Arina Tanemura manga is the lovely textured art, drawn in a style that makes many pages look like the face of an ornate rug or tapestry. In the case of The Gentlemen's Alliance †, the treat is both the art and the twisty, edgy plot. The manga's machinations, betrayals, conspiracies, and intrigues within the series' various family units are shocking – especially considering that this is a book for teens. I cannot help but wonder if the depictions of the severe obligations that are passed from one generation to the next are a reflection of the real Japanese family dynamic. Regardless, this makes for interesting reading because the familial ties that bind make The Gentlemen's Alliance -Cross- like no other high school shojo romance.
POSSIBLE AUDIENCE: Readers who want the edgy side of the "Shojo Beat" line will want The Gentlemen's Alliance † – one the best titles in the line.
A-
Last Updated: August 31, 2023 - 08:12