The Gentlemen's Alliance Cross: Volume 7
By Leroy Douresseaux
September 13, 2008 - 13:42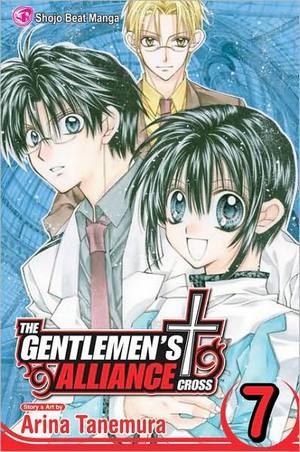 Thanks to barnesandnoble.com for the above cover image.
Rated "T+" for "Older Teen"
Haine Kamiya's prestigious family sold her to the Otomiya family to pay a debt. Not only did her last name change (to Otomiya), but Haine also became a juvenile delinquent. After meeting and falling in love with Shizumasa Togu, Haine followed him to Imperial Academy, a private academy for the aristocracy. Haine joined the Student Council, where Shizumasa is "the Emperor, and she struggles to find a place among the many secrets of these elite students.
The Gentlemen's Alliance †, Vol. 7, Takanari Togu, the twin brother of Shizumasa, is determined to make Haine fall in love with him. Haine is also troubled by her growing feelings for Takanari, but how can she love both Takanari and Shizumasa? Meanwhile, Haine's other dilemma is her dear friend Ushio Amamiya, who seems to have too many male paramours, but Haine is about to get the shock of her life when Ushio reveals to her whom she really loves.
THE LOWDOWN: I feel taken in by the work of Arina Tanemura (Full Moon, Wanted). The beautiful, textured artwork that she produces (presumably with the help of assistants) has a painterly quality to it, like lush Pre-Raphaelite paintings, and The Gentlemen's Alliance † is no exception when it comes to having lovely, toned and patterned art. Tanemura builds the drama in The Gentlemen's Alliance † around a sizable, but tight cast of teenagers who are always entangled in some kind of melodrama. Budding romance and the troubles that surround it are the special of the day. Yeah, this does seem girlish and typically shoujo (girls' comics), but Tanemura does it her own way and does it so well.
POSSIBLE AUDIENCE: Young shoujo fans shouldn't miss this.
B+
Last Updated: January 24, 2022 - 11:00