The Gentlemen's Alliance Cross: Volume 9
By Leroy Douresseaux
March 1, 2009 - 12:20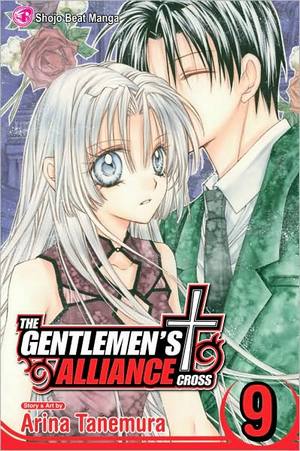 The Gentlemen's Alliance Cross 9 cover image is courtesy of barnesandnoble.com.
Rated "T+" for "Older Teen"
Haine Otomiya was not born into the prestigious Otomiya family. Her birth parents sold her to the Otomiya family for the sum of 50 million yen in order to pay a debt. Haine grew into a juvenile delinquent, but after meeting and falling in love with Shizumasa Togu, Haine followed him to Imperial Academy, a private academy for the aristocracy. Haine joined the Student Council, where Shizumasa is "the Emperor," and finds herself in the midst of so many secrets, including some of Shizumasa's.
In The Gentlemen's Alliance -Cross-, Vol. 9 (stylized as The Gentlemen's Alliance †), the darkest secrets of the Kamiya family (Haine's birth family) and the Otomiya family are dragged into the light. What are the connections of both families' patriarchs, Kazuhito Kamiya and Itsuki Otomiya, to Haine? After learning some shocking family truths, Haine returned to her yanki (gang) life. Now, Haine and her homegirls are plotting to break into the Kamiya mansion to abduct her mother.
THE LOWDOWN: It's a good thing when a manga series continues to improve or get more exciting to read with each new chapter or at least with each new storyline. With Vol. 9, The Gentlemen's Alliance † combines breakneck, tension-filled drama with that definitive beautiful, flower-decorated, patterned, shojo manga art. As catty as the characters get with one another, the fact that they come together to produce such a conflict rich, soap drama is still a surprise. Perhaps, some of us are still surprised that shojo can really be sho'nuff good drama. Creator Arina Tanemura's art is so good and so textured, it looks like you could touch it and feel cloth.
POSSIBLE AUDIENCE: Fans of the "Shojo Beat" line will want The Gentlemen's Alliance † – one the best titles in the line.
A-
Last Updated: January 24, 2022 - 11:00