Nana: Volume 18
By Leroy Douresseaux
September 1, 2009 - 12:55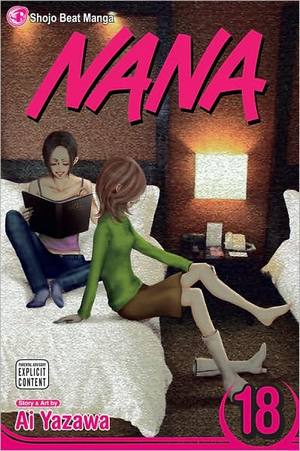 Nana Volume 18 cover image is courtesy of barnesandnoble.com.
Rated "M" for "Mature"
Nana "Hachi" Komatsu and Nana Osaki met on a train to Tokyo. Hachi was moving to Tokyo in order to leave her capricious love life behind her. She eventually becomes engaged to Takumi Ichinose, the leader of the rock band, Trapnest. Nana Osaki wanted to make it big in the world of rock 'n roll, and she eventually became a member of a rock band called Blast (the Black Stones). The two young women named "Nana" met again, and in spite of their different personalities and backgrounds, become roommates and best friends. Together, they navigate the world of fashion, gossip, rock and roll, sex, and all-night parties.
In Nana, Vol. 18, things go bad for Blast. Bassist Shin has trouble dealing with the extreme stress of the band's rising success and his relationship with Reira. After an encounter with one of his own family members, Shin gets arrested. Nana freaks out at the thought of everything falling apart because of Shin's legal woes, so Yasu helps her make a stunning decision that will certainly affect Blast's future.
[This volume also includes a 70-page bonus story entitled "Takumi."]
THE LOWDOWN: In my review for the 17th volume of Nana, I wrote that if, "American comic book publishers want to attract more women readers (or even teen girls), they should publish something like Nana." With its high quality storytelling, resonant drama, and profound characters, Nana is the kind of soap opera that captures its readers' imaginations, casting an enchantment that holds them between volumes. With her thin, intricate, but detailed line art, creator Ai Yazawa gives each character his or her own unique look, and, thus, makes each one important to this winning series.
POSSIBLE AUDIENCE: Fans of josei manga (comics for adult women) will want Nana on their reading list.
A-
Last Updated: June 23, 2021 - 00:45