Nana: Volume 17
By Leroy Douresseaux
July 4, 2009 - 20:13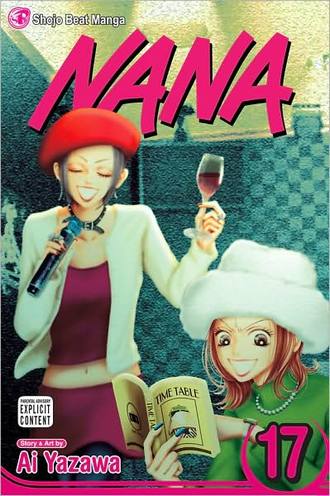 Nana Volume 17 cover image is courtesy of barnesandnoble.com.
Rated "M" for "Mature"
After first meeting on a train to Tokyo, Nana "Hachi" Komatsu and Nana Osaki meet again, and in spite of their different personalities and backgrounds, become roommates. Hachi has moved to Tokyo in order to leave her capricious love life behind her; she eventually becomes engaged to Takumi Ichinose, the leader of the rock band, Trapnest. Nana Osaki has moved to the city to make it big in the world of rock 'n roll; she eventually becomes a member of a rock band called Blast (the Black Stones). Best friends, Hachi and Nana navigate the world of fashion, gossip, rock and roll, sex, and all-night parties.
As Nana, Vol. 17 begins, the tabloid magazine, Weekly Search, continues to dig into Nana Osaki's past and are about to make public their discoveries about Nana's parentage. Hachi tries to keep the revelations secret, but her meeting with Nana's mother, who abandoned her daughter, ends badly. Is Nana making things worse? Meanwhile, the scandal involving Trapnest members, Reira and Ren, continues to simmer, while Reira sneaks off to get busy with Blast member, Shin. And a Blast groupie turns out to be related to Nana!
THE LOWDOWN: If American comic book publishers want to attract more women readers (or even teen girls), they should publish something like Nana, but they would need to make sure their Nana-clones have the same high quality storytelling, drama, and characterization, with a narrative that becomes richer and more complicated with each storyline. The narrative complexity, the psychological underpinnings, and the fairly accurate depiction of the intricacies of human relationships make this a winner.
POSSIBLE AUDIENCE: Fans of josei manga (comics for adult women) will want Nana on their reading list.
A-
Last Updated: June 23, 2021 - 00:45