Nana: Volume 13
By Leroy Douresseaux
November 3, 2008 - 15:27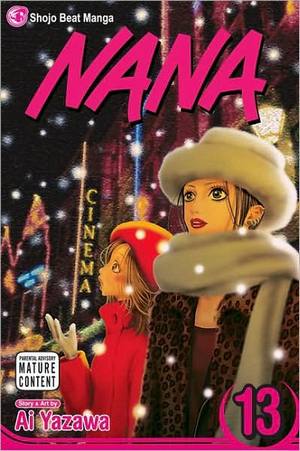 The cover image for Nana 13 is courtesy of barnesandnoble.com.
Rated "M" for "Mature"
Two young women named "Nana," meet in Tokyo. One of them, Nana "Hachi" Komatsu, moves to Tokyo to leave her capricious love life behind her. The other, Nana Osaki, moves to the city to make it big in the world of rock 'n roll. United by more than just a name, the two Nanas navigate the world of fashion, gossip, rock and roll, sex, and all-night parties.
In Nana, Vol. 13, Blast (Nana's band) and Trapnest (the band of Hachi's man, Takumi Ichinose) come together for the big birthday party of Shin and Reira. Shin's been a bad boy, and Reira's been a bad girl right along with him. Takumi steps in when he thinks their activities might hurt both bands. Meanwhile, Hachi sees the party as the perfect opportunity to reunite with Nana, but when Takumi becomes furious because he thinks she "crashed" the party, Hachi may have to choose between her husband-to-be and her best friend.
THE LOWDOWN: I've thought for awhile now that Nana, Ai Yazawa's very popular rock 'n roll, soap opera manga, was very well produced, but I'm only now warming up to the characters. Nana is well-written, intricately plotted, and very well drawn (strong composition and excellent panel designs), but the series' strength is truly in the superbly crafted characterizations of the book's stars. Each character has his or her individual identity, which makes for a narrative composed of wildly divergent conflicts and self-interests – what a great soap opera/character drama should have. [Why am I admitting this?] I teared up when the two Nanas reunite!
POSSIBLE AUDIENCE: While it is a josei manga (comics for adult women), Nana has across the board appeal to many readers.
A-
Last Updated: June 23, 2021 - 00:45