Nana: Volume 15
By Leroy Douresseaux
March 18, 2009 - 20:09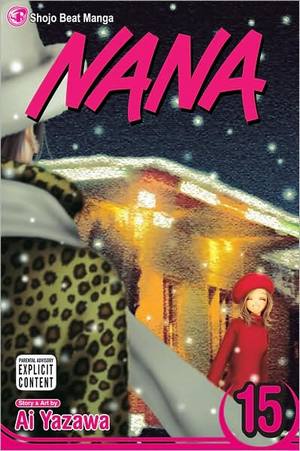 Nana Vol. 15 cover image is courtesy of barnesandnoble.com.
Rated "M" for "Mature"
Two young women named "Nana," meet on a train to Tokyo. They meet again, and in spite of their different personalities and backgrounds, become roommates. One of them, Nana "Hachi" Komatsu, moves to Tokyo to leave her capricious love life behind her and eventually becomes engaged to Takumi Ichinose, the leader of the rock band, Trapnest. The other, Nana Osaki, moves to the city to make it big in the world of rock 'n roll and becomes a member of Blast (the Black Stones). United by more than just a name, the two Nanas navigate the world of fashion, gossip, rock and roll, sex, and all-night parties.
As Nana, Vol. 15 begins, Nana Osaki learns that her husband-to-be and Trapnest member, Ren Honjo, is photographed hugging Trapnest's lead singer, Reira. Now, the tabloids have the photos, and in order to save his band, Takumi may have to let the world know about his relationship with Hachi. But how will that revelation affect Hachi and her bid for happiness?
THE LOWDOWN: Volume 15 is the best volume of Nana that I've read to date, simply because the series' multiple subplots, storylines, and characters seem united by a crisis that may expose to the public the sordid connections between the two rising rock bands, Blast and Trapnest. This focus makes it not only easier to follow the narrative, but also to enjoy the characters' personalities and motivations. Creator Ai Yazawa really gets to the heart of the matter; nothing in life is simple – even the things that seemed simple, at first. Yazawa is putting her characters through the paces, and while entertaining, she's teaching her readers a lesson they need to know (although many may already know): for everything her young characters want – love, happiness, professional success, etc., they'll really have to focus on those goals and make it through many, many rough patches.
POSSIBLE AUDIENCE: Although it is a josei manga (comics for adult women), high school age readers may like Nana.
A-
Last Updated: June 23, 2021 - 00:45