Comics / Comic Reviews / DC Comics
Northlanders #1
By Zak Edwards
December 11, 2007 - 15:05

Northlanders #1

I picked up Northlanders #1 on a whim yesterday not knowing what to expect. It's from Vertigo, so I can expect a more mature and adult-oriented experience, and it's written by Brian Wood of DMZ fame, so it comes with a certain expectation there. And reading through this first issue, I enjoyed it very much. It has some action, some political intrigue, some self-discovery in its workings; so from an entertainment perspective it excels. The major problem with Northlanders is how familiar it is, and that's where this series begins to disappoint.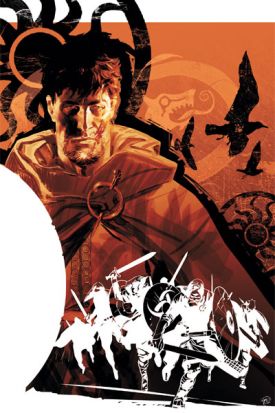 Brian Wood has a very well-written cut and paste story that everyone has seen many times before. Estranged son comes back to his homeland to reclaim his inheritance from a cowardly, evil dictator who has taken over in his absence, its all been done before. All the characters involved play their parts as they would in any other redo of this overly used plot line, one can practically predict what the characters will do and say long before it happens. Even the fact that the lead protagonist, Sven, is a complete anti-hero does not excite me as Wood has placed a young maiden in the story to give the character a more personal connection when the time arises. So despite its entertainment value, it fails to push any boundaries or surprise in any way, something that caught me off guard. Like I said, the whole thing seems to have already played itself out. Another point that ruins this series already is in the end of the issue where Wood has been given a column to discuss this series. In the column, Wood describes his painstaking research, going as far as to vacationing in Iceland and Scotland. This research does not present itself here at all. The characters have a very modern feel to them, frequently using modern language and referring to cultural practices probably not present at the time. Creative license is to be expected in this sort of work in order to maintain a connection to the audience, but when you defend the piece as historically accurate, these things become glaringly apparent. So Northlanders will do something for you is your looking for entertainment and escapism, but if your looking for that new comic book series to challenge you as a reader and prove itself worthy of literature,
Northlanders will fall short.
Artist Davide Gianfelice delivers an interesting portrayal of Wood's script with his rough and moody pencils backed by the contrasting colour palettes of colourist Dave McCaig. The whole comic has an almost "300" look to it, if I dare make the comparison. Reds and blacks work well to set atmosphere, while the use of gray serves to flush the colour out of the backgrounds and people. The art is very well done; gritty, rough, washed out with splashes of colour fit the time of the piece more than some of the characters.
6.5/10 The story is good, just completely unoriginal. The art is rough and gritty with the colours enhancing an already perfect match. But this rating would increase or decrease depending on what you want out of a good comic book.
Last Updated: June 23, 2021 - 00:45