20th Century Boys: Volume 6
By Leroy Douresseaux
Dec 5, 2009 - 13:07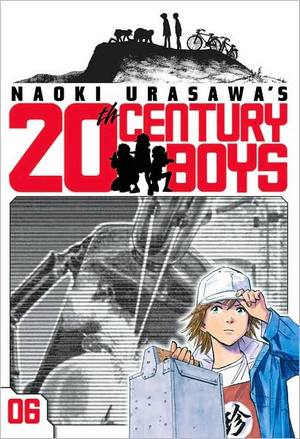 20th Century Boys Volume 6 cover image is courtesy of barnesandnoble.com.
Rated "T+" for "Older Teen"
A new Tokyo, Neo Tokyo, rose out of Bloody New Year's Eve, the event that brought the world to the brink of destruction. Although it is now a thriving, multiethnic metropolis, the city still lives under the shadow of the worldwide cult know as the "Friends." Kanna, the niece of one of Bloody New Year's Eve's heroes, Kenji Endo, lives and works in the city's Kabuki-cho neighborhood, and she will soon find herself caught in another Friends plot.
In Naoki Urasawa's 20th Century Boys, Vol. 6 (entitled Final Hope), Kanna learns that Britney, a transvestite associate, has not only witnessed a shocking murder, but she may have also overheard a plot to murder a visiting dignitary. Kanna tries to help her friend, but refuses the assistance of Chono Shohei, a freshman detective assigned to the Kabuki-cho Police Station, who is investigating the murder Britney witnessed.
Meanwhile, Kakuta, a mild, unassuming manga artist, is transferred to Umihotaru Prison. Convicted because authorities deemed his work subversive, Kakuta will spend the rest of life at this prison built on a man-made island in the middle of Tokyo Bay. The same day he arrives, Kakuta is thrown into solitary, in a cell next to the "monster," which might not be a bad thing.
THE LOWDOWN: As he often does, Naoki Urasawa tells his longer manga narratives from the point of view of multiple protagonists. If there are many keys to the success of Urasawa's series, having winning protagonists that engage and ensnare the readers is one of the main reasons. Now, the readers are in the hands of Kanna and Kakuta. Kanna is a fighter, a gritty, determined young woman who takes the archetypical spunky girl and gives her a kick in the ass. Right now, any action movie heat and thrills that 20th Century Boys has follows her.
Kakuta is the kind of hapless everyman that usually appears several times in an Urasawa series. Punished for something he didn't intend to do and caught in a conspiracy, Kakuta is perhaps the most authentically human character yet to appear in 20th Century Boys; like us, he is often in the wrong place at the wrong time. Perhaps, he will also represent the best of what we want to be – someone who snatches a great victory from the terrible jaws of defeat. That alone will make this great manga worth following.
POSSIBLE AUDIENCE: Readers looking for exceptional manga will want 20th Century Boys.
A
Last Updated: Jun 26, 2018 - 9:28