20th Century Boys: Volume 15
By Leroy Douresseaux
June 16, 2011 - 07:36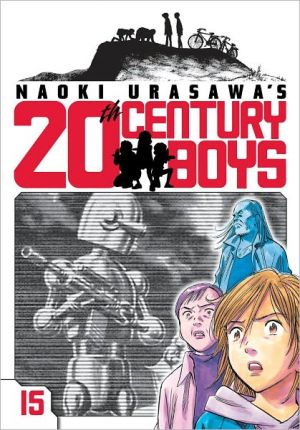 20th Century Boys Volume 15 cover image is courtesy of barnesandnoble.com.
Rated "T+" for "Older Teen"
In 2014, Neo Tokyo is a thriving, multiethnic metropolis that lives under the shadow of the worldwide cult known as the "Friends." Their leader, the "Friend," is celebrated as the man who saved the world on Bloody New Year's Eve (12/31/2000). Now, the Friend is dead, but his diabolical schemes continue. Kanna Endo leads a group of people trying to stop a new Bloody New Year's Eve.
As Naoki Urasawa's 20th Century Boys, Vol. 15 (entitled Expo Hurray) begins, we meet Brother Luciano, a young priest who returns home after the death of his dear mentor, Father Perrin. While going through Perrin's office, Luciano discovers a book that prophesizes the end of the world, and he also inadvertently discovers the Friends' plot to assassinate the Pope during his trip to the 2015 World Exposition in Tokyo.
Meanwhile, Kanna and friends prowl the Kabuki-Cho neighborhood in preparation for the Pope's trip to the neighborhood. There, the Holy Father will visit a Catholic church where he will be reunited with Father Nitani, an old friend from his days before he became Pope. But Kabuki-Cho is the place where an assassin supposedly waits.
THE LOWDOWN: My summary of the plot and multiple subplots in this 15th volume of 20th Century Boys does a disservice to this particular volume. As with every volume, this volumes offers so much; new characters emerge, and old supporting players pop up with new importance. The scene shifts from Japan to another continent or country – this time the United States.
Whatever gets added or subtracted, this speculative science fiction and conspiratorial thriller rolls on and continues to deliver chills and thrills. Once again, creator Naoki Urasawa affirms his place on the shortlist of best comic book creators in the world. That affirmation comes from a book that just won't let you put it down and walk away… until you've read the last page and are praying for new pages. You will certainly want more, because this book has a killer last act and a shocking prologue to the next story arc.
POSSIBLE AUDIENCE: Comic book readers looking for the best comics will want 20th Century Boys on their reading list.
A+

Last Updated: February 5, 2023 - 09:06