20th Century Boys: Volume 20
By Leroy Douresseaux
April 23, 2012 - 10:31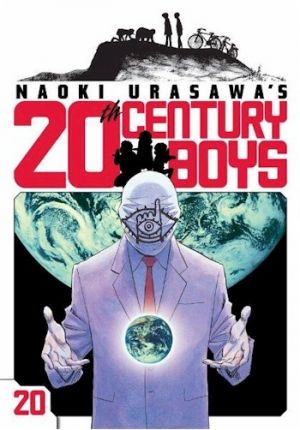 20th Century Boys Volume 20 cover image is courtesy of Anime Castle Books.
Rated "T+" for "Older Teen"
Neo Tokyo was once a thriving, multiethnic metropolis… in 2014. By 2018, the world is in the third year of the Friendship era. Tokyo is a walled city and home of the worldwide cult known as the "
Friends
." The cult's leader, the "
Friend
," is now President of the World, and he is plotting the final extinction of mankind. However,
Kenji Endo
, the returning hero, leads a vagabond army toward Tokyo. Meanwhile,
Kanna Endo
and her friends prepare for the final battle.
As
Naoki Urasawa's 20th Century Boys

, Vol. 19
(entitled
Humanity in the Balance
) opens, Kenji's friends, known as "
Kenji's group
," prepare to move against the Friend.
Yukiji
closes her dojo, as she combs through her memory back to the time she met, Kanna's mother,
Kiriko
. Yukiji joins
Otcho
and Kanna's mission to invade the Friends' fortress in Tokyo. Meanwhile, in
Frogdoom
, the domain of soba chef,
Keroyon
,
Maruo
finds Kiriko. Now, the trio must discover if the Friend is really who they think he is.
THE LOWDOWN:
Unlike my previous review of the 19th volume of the
20th Century Boys
manga, I added more details about the story contents. I think that I recounted at least half, and that is without going into the usual bevy of flashbacks with which creator
Naoki Urasawa
inserts within chapters or uses as entire chapters. That aside, this volume, like almost every other, is a testament to Urasawa's ability to create long serial narratives that maintain a high level of quality.
Because of the simultaneous appearance of four, important female characters: Kanna, Kiriko, Yukiji, and
Takasu
, readers will get a chance to examine the diverse ways in way Urasawa presents the women in this series. They're long-suffering, but never in a way that debilitates them (Kiriko). They are devious, but never in a hackneyed way (Takasu). They're steadfast in the face of tribulations (Yukiji). They could be the star of the book (Kanna). In fact, Kanna is the kind of strong action-female that James Cameron does so well; you'll always want more Kanna the way you will want more
20th Century Boys
.
POSSIBLE AUDIENCE:
Comic book readers looking for the best comics will want
Naoki Urasawa's 20th Century Boys
on their reading list.
A
Last Updated: February 5, 2023 - 09:06