20th Century Boys Wins Eisner Award
By The Editor
July 29, 2011 - 10:11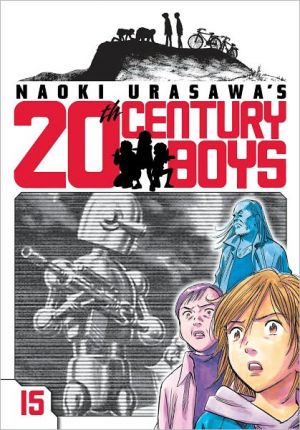 20th Century Boys Volume 15 cover image
VIZ MEDIA'S NAOKI URASAWA'S 20th CENTURY BOYS WINS A 2011 EISNER AWARD
Manga Masterpiece Recognized With The Comic Book Industry's Most Prestigious Award
VIZ Media, LLC (VIZ Media), the largest distributor and licensor of anime and manga in North America, is proud to announce that NAOKI URASAWA'S 20th CENTURY BOYS was recognized with an Eisner Award in the Best U.S. Edition of International Material - Asia category during award ceremonies held at the recent Comic-Con International event in San Diego, CA. NAOKI URASAWA'S 20th CENTURY BOYS is published in North America by VIZ Media's Signature imprint. Volume 17 of the series will be released in August.
20th CENTURY BOYS is the story of a group of boys who try to save the world. Humanity, having faced extinction at the end of the 20th century, would not have entered the new millennium if it weren't for them. In 1969, during their youth, they created a symbol. In 1997, as the coming disaster slowly starts to unfold, that symbol returns.
For Kenji, a simple convenience store manager who once dreamed of becoming a rock 'n' roll musician, a host of memories from his past come rushing back when one of his childhood friends mysteriously commits suicide. Could this new death be related to the rise of a bizarre new cult that's been implicated in several other murders and disappearances? Determined to dig deeper, Kenji reunites with some of his old buddies in the hope of learning the truth behind it all.
"We're elated to have NAOKI URASAWA'S 20th CENTURY BOYS recognized by the comic book industry such a prestigious award," says Andy Nakatani, Editorial Director at VIZ Media and editor for the title. "Urasawa's tense and dramatic storylines have firmly established him among the very top echelon of manga creators. With this, and other acclaimed series such as NAOKI URASAWA'S MONSTER and PLUTO: URASAWA ´ TEZUKA, Naoki Urasawa continues to push the boundaries of the manga genre, and we look forward to this award bringing his work to the attention of many new fans across North America."
The Will Eisner Comic Industry Awards are considered the "Oscars" of the comic book industry and are named for renowned cartoonist Will Eisner (creator of The Spirit and several award-winning graphic novels). The awards are handed out each year in a gala ceremony at Comic-Con International in San Diego, the largest and oldest comic book convention in the United States.
Naoki Urasawa's career as a manga artist spans more than twenty years and has firmly established him as one of the true manga masters of Japan. Born in Tokyo in 1960, Urasawa debuted with BETA! in 1983 and hasn't stopped his impressive output since. Well-versed in a variety of genres, Urasawa's oeuvre encompasses a multitude of different subjects, such as a romantic comedy (YAWARA! A FASHIONABLE JUDO GIRL), a suspenseful human drama about a former mercenary (PINEAPPLE ARMY; story by Kazuya Kudo), a captivating psychological suspense story (NAOKI URASAWA'S MONSTER), a sci-fi adventure manga (NAOKI URASAWA'S 20TH CENTURY BOYS), and a modern reinterpretation of the work of the God of Manga, Osamu Tezuka (PLUTO: URASAWA X TEZUKA; co-authored with Takashi Nagasaki, supervised by Macoto Tezka, and with the cooperation of Tezuka Productions). Many of his books have spawned popular animated and live-action TV programs and films, and 2008 saw the theatrical release of the first of three live-action Japanese films based on NAOKI URASAWA'S 20TH CENTURY BOYS.
No stranger to accolades and awards, Urasawa is a three-time recipient of the prestigious Shogakukan Manga Award, a two-time recipient of the Osamu Tezuka Cultural Prize, and has received the Kodansha Manga Award. Urasawa has also become involved in the world of academia, and in 2008 accepted a guest teaching post at Nagoya Zokei University, where he teaches courses in, of course, manga.
For more information on NAOKI URASAWA'S 20th CENTURY BOYS and other VIZ Media manga titles, please visit www.viz.com/manga.
Last Updated: February 5, 2023 - 09:06