20th Century Boys: Volume 18
By Leroy Douresseaux
December 13, 2011 - 12:27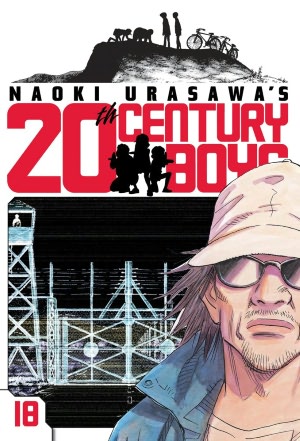 20th Century Boys Volume 18 cover image
Rated "T+" for "Older Teen"
Neo Tokyo was a thriving, multiethnic metropolis… in 2014. The city lived under the shadow of the worldwide cult known as the "Friends" and its leader, the "Friend." He is the one who unleashed a killer virus that decimated the world's population. Three years into the Friendship Era, Tokyo is a walled fortress, and the Friend is the President of the World. But the Ice Queen Brigade stirs resistance.
Naoki Urasawa's 20th Century Boys, Vol. 18 (entitled Everybody's Song) is astir with the strains of revolutionary jam. Who is that troubadour called Yabuki Joe who is the creator of the song with the refrain, "Gutarara! Sudarara!"? Meanwhile, Otcho confronts Kanna Endo AKA the Ice Queen about her plans to have her Ice Queen Brigade attack the Friend's forces. Also, Manjome Inshu makes a shocking proposal to two of his prisoners.
THE LOWDOWN: Every volume of 20th Century Boys has shocking revelations and reveals, and no Naoki Urasawa graphic novel or trade collection is complete without a flashback. It is, however, the special volume of 20th Century Boys that offers flashbacks that lead to revelations that may not be true or completely true. It's all so confusing… and I wouldn't have it any other way.
POSSIBLE AUDIENCE: Comic book readers looking for the best comics will want 20th Century Boys on their reading list.
A

Last Updated: August 31, 2023 - 08:12