20th Century Boys: Volume 17
By Leroy Douresseaux
December 11, 2011 - 08:28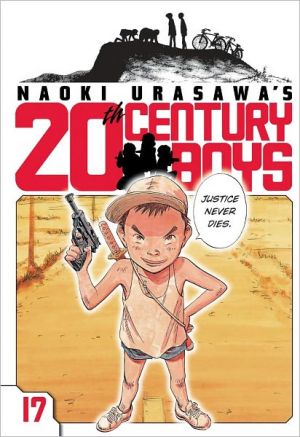 20th Century Boys Volume 17 cover image is courtesy of barnesandnoble.com.
Rating: "T+ for Older Teens"
In 2014, Neo Tokyo was a thriving, multiethnic metropolis, but the city lived under the shadow of the worldwide cult known as the "Friends." Their leader, the "Friend," is celebrated as the man who saved the world on Bloody New Year's Eve (12/31/2000). Assassinated by one of his followers, the Friend returned from the dead and unleashed a killer virus upon the world. Now, in the third year of the Friendship Era, resistance stirs.
As Naoki Urasawa's 20th Century Boys, Vol. 17 (entitled Cross-Counter) begins, Otcho (AKA "Shogun") is reunited with the clairvoyant homeless man, Kamisama. Meanwhile, Otcho's youthful benefactors, Sanae and her brother, Katsuo, have a dangerous encounter with the Global Defense Force. Then, Sanae is off to find the Ice Queen to deliver some important news, while the world prepares for an alien invasion?! Plus, a mysterious figure, a man with lots of names, arrives.
THE LOWDOWN: Once again, my summary of the plot and multiple subplots in a volume of 20th Century Boys does a disservice to the volume. Just as every volume does, Vol. 17 sees new characters emerge and former players return with renewed importance. The setting shifts around Japanese locales from Tokyo, above and below ground, to the forlorn countryside.
Now, that the narrative has moved once more into the future, creator Naoki Urasawa spins a masterful dystopian yarn. Its potency is that this dark future seems as if it could be really real. What is scary is that this current story arc mirrors our times – an uncomfortable match that is unnervingly prophetic. More bang for your comic book buck.
POSSIBLE AUDIENCE: Comic book readers looking for the best comics will want 20th Century Boys on their reading list.
A+
Last Updated: August 31, 2023 - 08:12