Comics / Manga / Yaoi Manga
Train Train: Volume 1 (DokiDoki)
By Leroy Douresseaux
Apr 10, 2009 - 8:27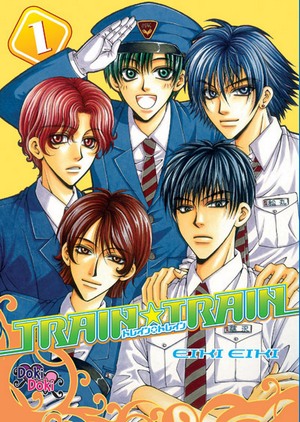 Train Train Volume 1 cover image
Comedy; Rated "16+ Young Adult"
Digital Manga Publishing describes its new imprint "Doki Doki" as a bridge imprint that allows readers to move from shojo manga (comics for teen girls) to shounen-ai and yaoi. Shounen-ai and yaoi are sub-categories of boys' love, a genre of manga that depicts love between two males, with shounen-ai generally being non-graphic in its depiction of sexuality and yaoi being explicit. The inaugural Doki Doki series is Train Train by Eiki Eiki, which, even with its gentle innuendo, is more workplace comedy than sexy comedy.
Train Train, Vol. 1 introduces readers to Asahi Saruta, ostensibly the lead character. Fresh out of high school, Asahi is ready to follow his dream of becoming a train operator like his late father. He begins as a trainee at Minami-Kitazawa Station (aka MK Station). What Asahi doesn't know is that MK is known for being staffed entirely by good-looking guys. There's Kaiji Fujisawa, the ticket booth supervisor – the former delinquent turned college student. Hokuto Matsumaru is the fare gates supervisor and a free-spirited bisexual. Hikari Furukawa is platform supervisor and is the only female staff member. Finally, "announcement supervisor," Tsubasa Mashiko is also an actor. Poor Deputy Akita, the deputy station master, has to keep an eye on this peculiar staff.
Discovering that young women and girls stop at the station just to see the staff and spend some cash comes as a surprise to Asahi, but he gets an even bigger shock when he learns that he was chosen to work at MK Station because of his own "cuteness factor." Now, Asahi, who is actually quite clumsy and clueless, must rise to the challenge or the day-to-day mayhem will reveal his flaws and find him derailed from his chosen career path.
THE LOWDOWN: The most precise word to define Train Train is "cute," because of the lead character Asahi Saruta. In fact, both the author and the characters describe Asahi as a "cuddly animal type." While the other four staff characters fit the "beautiful boy" model of bishounen manga, creator Eiki Eiki actually depicts them as masculine, cute, or even feminized, but it depends on what a particular scene or moment (individual panel) requires. Most of the time, however, what's required is cute: cute stories, incidents, moments, and especially Asahi's cute tantrums.
The author often depicts Asahi as an uke-type (the "bottom" in yaoi manga), with his winsome looks, doe eyes, and damsel-in-distress persona, and it seems as if he's always crying. Asahi is that character that other characters want to baby and treat like a pet. He's also the boy as spunky girl, showing some feistiness just like a shojo heroine would when he needs to take control of the chaos.
The first volume of Train Train never broaches romance. It's simply a comedy set in an unusual working environment that will provide many comic scenarios that are more pleasantly humorous than they are uproarious. It's weird that I like this because this is a total girls' comic, but some male readers may enjoy the comedy… and the cuteness factor.
POSSIBLE AUDIENCE: As it dances at the crossroads where bishounen, shounen-ai, and shojo meet, fans of any of these genres may like the amusing (and cute) Train Train.
B+
Last Updated: Jun 26, 2018 - 9:28