Comics / Manga / Yaoi Manga
Brilliant Blue: Volume 2 (DokiDoki)
By Leroy Douresseaux
November 19, 2009 - 11:20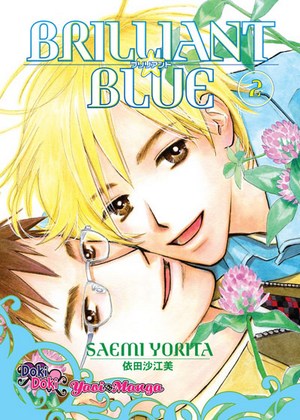 Brilliant Blue Volume 2 cover image
Drama/Romance; Rated "16+ Young Adult"
Brilliant Blue is the story of a young man, Shouzo Mita, who reluctantly returns home to help his father, who is laid-up with an injury, run the family business. Then, Shouzo slowly becomes involved in the troubled life of an old schoolmate, Nanami Ushijima.
As Brilliant Blue, Vol. 2 opens, Shouzo has finally realized that Nanami is trying to seduce him, and he's ready for the seduction. So why does Nanami react with horror and run away when Shouzo returns the amorous feelings? And how will Nanami's family react to Shouzo and Nanami dating considering that his last relationship with another man turned into a disaster?
Finally, in a long side story, Mita Construction Company has a new employee, Naoki Miura, a tall brooding young man with rumors following him from his previous job. Shouzo has reservations about Mirua, whom he hired because his father is a family friend. However, while Shouzo has his doubts, Nanami has taken a great liking to Mirua.
THE LOWDOWN: Early in the second volume of Brilliant Blue, the series' tone takes a change once Shouzou and Nanami's courtship really begins, and the awkwardness and confusion of these lovers seems to permeate the narrative, making it awkward and confused. However, once creator Saemi Yorita draws upon the other elements, besides romance, that make this series so enjoyable, the narrative regains equilibrium.
Its small town, rural setting adds a distinct flavor to Brilliant Blue. The easy going atmosphere of the small town makes even a gay relationship seem less a big deal, whereas boys' love stories in urban settings often seem as glitzy and as stylish as a city of late night revelry and fashionable hangouts. That might not seem possible, especially in a small town where everyone knows everyone and gossip travels quickly, but this narrative is as much about small town commitments and friendships as it is about romance. This is the boys' love version of that early 1990s Michael J. Fox film, Doc Hollywood.
POSSIBLE AUDIENCE: Readers looking for offbeat boys' love will enjoy Brilliant Blue.
A-
www.digitalmanga.com
www.akadot.com
Last Updated: August 31, 2023 - 08:12