Comics / Manga / Yaoi Manga
Millennium Prime Minister 3 (DokiDoki)
By Leroy Douresseaux
May 20, 2010 - 19:59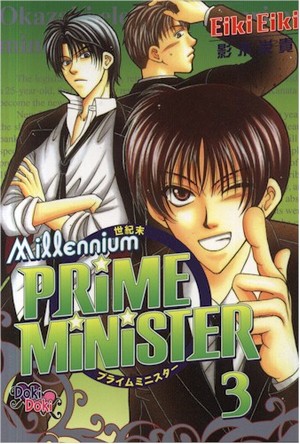 Millennium Prime Minister 3 cover image is courtesy of Anime Castle Books
Comedy/Drama; Rated "16+ Young Adult"
Sixteen-year-old Minori Nagashima is a tomboyish schoolgirl who enjoys playing video games. One day, Minori beats some guy at the local arcade and is ready to forget him – until he declares that he's going to marry her! This bold fellow is 25-year-old Kanata Okazaki, Japan's newest and youngest-ever Prime Minister. Before she knows it, Minori is whisked off to the prime minister's estate and becomes engaged to marry him (with her parents' consent). The spunky teen will need all her sassy attitude to survive the backbiting world of governmental politics.
Millennium Prime Minister, Vol. 3 begins with the disappearance of Prime Minister Kanata Okazaki's senior aide, Sai Faulkner. The surprise of the disappearance is nothing compared to the shocking discovery about Sai's origins. Then, Kanata drops a political bombshell that has the entire country talking.
Millennium Prime Minister is a soap opera set in the world of Japanese politics, and I do mean soap opera. The surprising family ties, the secret attractions, the sexual teasing, the gossip, and the scheming make Millennium Prime Minister seem like a comic book adaptation of television soap opera. Throw in political intrigue and you have a manga that is always about mess-making.
Millennium Prime Minister is not really boys' love, although there is plenty of shounen-ai teasing and bromance. The strongest romantic angle is the relationship between Minori and Kanata, so readers shouldn't expect some boy-on-boy horseplay. But creator Eiki Eiki makes sure that there is plenty of catty drama to entertain the melodrama lover in us.
B+
Last Updated: August 31, 2023 - 08:12