Comics / Manga / Yaoi Manga
Electric Hands (DokiDoki)
By Leroy Douresseaux
Feb 3, 2010 - 14:24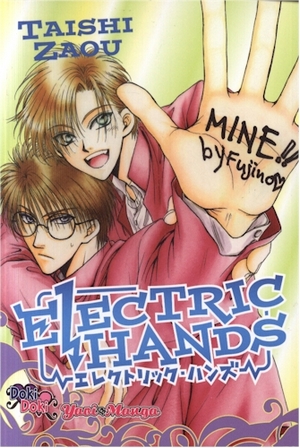 Electric Hands cover image is courtesy of Anime Castle Books.
Comedy/Romance; Rated "16+ Young Adult"
Electric Hands is a collection of four short story arcs created by Taishi Zaou (Living for Tomorrow), who is also known as Mikiyo Tsuda (Princess Princess Plus). The four storylines focus on older teen boys who find themselves being worn down by the amorous advances of younger teen boys.
In the two part title arc, "Electric Hands," Toru Fujino is a typical high school student who has a fetish for hands. Fujino is in love with his tutor, Keiji Takie's lovely hands. When he discovers that the mere touch of Takie's hands gives him an incredible electric shock, Fujino becomes torn between having Takie's hands all over his body or totally avoiding that exquisite shock.
In "Brothers Battle," Tomoharu and his mother have lived alone since his father died. Now, his mother has remarried and his two, new and younger stepbrothers are both eyeing their new, older stepbrother for some romance. But 12-year-old Aki may trump his 16-year-old brother, Yuki, as the bigger aggressor.
In "Love Play," 16-year-old Takami finds himself under love attack by 12-year-old Kairi, the son of his mother's boss. In "Don't Speak and Seduce with Your Eyes," Tomohiro Fujishima discovers that his teammate on the school's track and field team – the new guy, Takashi Tsuruga, constantly stares at him. That leads to a friendship, but when Fujishima discovers that Tsuruga's stare can control his body, is sex next?
THE LOWDOWN: Electric Hands is one large frothy confection – like a Sonic Drive-In ice cream and soda drink with whipped cream on top. Taishi Zaou has a deft touch with the mix of romance and comedy, but here, the mix is young male lust and spicy comedy. Although the shockingly aggressive nature and sexual forwardness of the preteens depicted here might be creepy in most stories, Zaou treats this as if it is just fodder for an outrageous comedy. With her skill at drawing emotive eyes that convey everything from puppy love to raging lusts, Zaou's Electric Hands is more fun than troubling to read.
POSSIBLE AUDIENCE: Fans of Taishi Zaou must have Electric Hands.
A-
Read more of my work at www.negromancer.com
Last Updated: Jun 26, 2018 - 9:28