Happy Boys: Volume 1 (DokiDoki)
By Leroy Douresseaux
December 17, 2009 - 08:31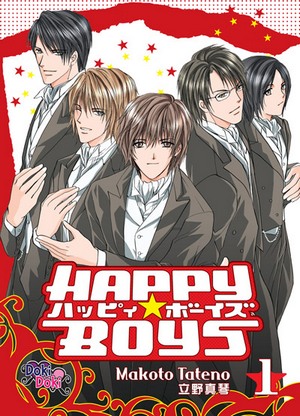 Happy Boys Volume 1 cover image
Comedy/Drama; Rated "13+ Teens"
In the manga, Happy Boys, from the prolific Makoto Tateno (Hero-Heel), the words, "Welcome home, madam," transport the person hearing them into a world where mannered servants take care of her every need.
Happy Boys, Vol. 1 introduces readers to Lady Braganza, a butler café. There, not only can patrons experience an afternoon of tea and cake, but they can also find themselves immersed in a high-class lifestyle. Tuxedo-wearing footmen attend to their each and every need. The cheerful staff includes veteran first footmen, Eve and Silk, and the newer footmen: Shiva, Renjo, and Ivory. There boss, butler Sakatoru Katano, watches their every move and makes sure they live up to his exacting standards. Patissier Kiichi Fukawa mostly stays in the kitchen preparing the finest deserts and sweet treats. Can these young men, who have their own personal lives and problems, keep up the posh illusion that is Lady Braganza?
The Happy Boys manga is apparently based upon a Japan TV series (with which I am not familiar). The manga is a workplace drama and comedy built on light-hearted situations depicting the employees helping and occasionally hindering one another. The characters are somewhat bishounen – male characters with androgynous features – in appearance, but, so far, this narrative doesn't have a yaoi or romantic angle.
Manga-ka Makoto Tateno's stylistic grammar (the way the creator presents the story in terms of graphics, illustrations, and other visual elements) for Happy Boys is pretty much the same as it is for her other work, so her fans will likely enjoy this. This is an easy, pleasant read that the reader can enjoy in a slow manner like sipping tea. Tateno is good with characters, especially male characters in either one-to-one or ensemble groupings. Tateno makes Lady Braganza a place the reader will want to visit often. This first volume of Happy Boys isn't really anything special, but this fun cast promises good times to come.
B
Last Updated: August 31, 2023 - 08:12