Comics / Manga / Yaoi Manga
Millennium Prime Minister: Volume 1 (DokiDoki)
By Leroy Douresseaux
Aug 7, 2009 - 6:14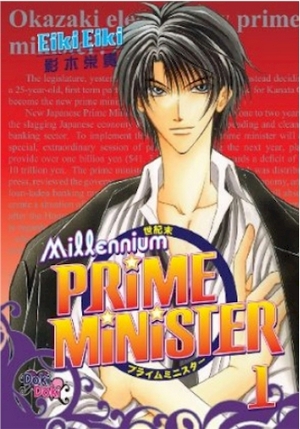 Millennium Prime Minister 1 cover image is courtesy of Anime Castle Books.
Rated "16+ Young Adult"
Minori Nagashima is a tomboyish schoolgirl who enjoys playing video games, and she doesn't give things like politics a second thought. One day the 16-year-old beats some guy at the local arcade, and she's ready to not give him a second thought – that is until he declares that he's going to marry her. This pushy guy with a penchant for hairdressing is none other than 25-year-old Kanata Okazaki, Japan's newest and youngest-ever Prime Minister.
Before she knows it, Minori is whisked off to the prime minister's estate and becomes engaged to marry him (with her parents' consent). The spunky teen needs all her sassy attitude to survive the worlds of high school politics (with its petty jealousies) and governmental politics (with its backbiting), not to mention having to deal with the paparazzi. Minori's biggest obstacle may be Sai, Kanata's 18-year-old senior aide, who glares at her whenever they meet. Why?
Millennium Prime Minister, Vol. 1 introduces an odd spin on the boys' love dynamic. The narrative is told from the point of view of Minori, a teen girl, and it focuses on her trials and tribulations. While this first volume of the series only hints at it, there is something of love triangle here, and Minori is a combination of the odd-man-out and object of affection, which only heightens this story's sense of suspense and dramatic conflict even more.
I've grown quite fond of the way creator Eiki Eiki draws the heads and faces on her characters. She cartoons the faces with an expert knowledge of human anatomy that allows the characters to be both emotional, pretty, and most of all convincing. Those big eyes with their elongated eyebrows simultaneously convey beauty and emotion in a way that is captivating. This is also perfect for Eiki's brand of soap opera theatrics.
A-
Last Updated: Jun 26, 2018 - 9:28