Tiger & Bunny: The Beginning DVD review
By Leroy Douresseaux
October 24, 2013 - 17:13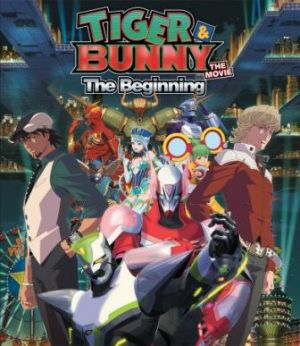 Tiger & Bunny: The Beginning - The Movie poster image
VIZ Media provided the Comic Book Bin with a copy of its recent two-disc, DVD release, Tiger & Bunny: The Beginning, which is also available on Blu-ray. Tiger & Bunny: The Beginning is a 2012 Japanese animated film (anime). Its original title is Gekijō-ban Tiger & Bunny – The Beginning, and it is based on Tiger & Bunny, a science fiction and superhero anime television series that was originally broadcast in Japan and ran for 25 episodes in 2011.
Tiger & Bunny takes place in a world where 45 years earlier, super-powered humans, known as NEXT, started appearing. Some of them fight crime as superheroes in Stern Bild City (a re-imagined version of New York City). They promote their corporate sponsors while appearing on the hit reality television show, HERO TV. Each season, the superheroes compete to be named the "King of Heroes." However, not all NEXT use their powers for good. Tiger & Bunny: The Beginning starts as a recap of the first few episodes of the TV series and then, moves on to a new story.
Tiger & Bunny: The Beginning opens as Kotetsu T. Kaburagi (Wally Wingert), a veteran superhero known as Wild Tiger, begins his day. Meanwhile, the Justice Bureau approves Barnaby Brooks, Jr. (Yuri Lowenthal) as a new superhero, but this rookie does not want a codename. Circumstances place Kotetsu in the employment of Apollon Media, and they want him to join Barnaby in forming the first every superhero team.
Kotetsu and Barnaby immediately dislike each other. Kotetsu even gives Barnaby the nickname "Bunny," which the rookie hates. They will have to learn to work together when Stern Bild City faces two grave threats, "Steel Hammer Statue" and a seemingly impossible to catch thief named Robin Baxter.
Tiger & Bunny: The Beginning is the second best animated feature film about superheroes. I put it behind Pixar's Oscar-winning film, The Incredibles. As Tiger & Bunny: The Beginning mixes traditional 2D (or hand-drawn animation) with 3D (or computer animation), I would say that it is by far the best 2D animated superhero film.
The film is a little soft on character drama, and the plot is pretty simply. The characters are wonderful, although the supporting superheroes are more colorful than the leads. The English voice-acting gives zest to Blue Rose (Kari Wahlgren) and Dragon Kid (Laura Bailey), and spice to the risqué Fire Emblem (John Eric Bentley). Kotetsu and Barnaby are a little too straight and narrow, as if the storytellers and filmmakers are reluctant to let them really show their range as characters.
Visually, Tiger & Bunny: The Beginning is a good example of how anime can actually match CGI in live-action when it comes to creating fantastic gadgets, creatures, and environments. The superheroes wear costumes that are more high-tech gadgets and armor than they are uniforms. One villain even has a costume that is practically some kind of eccentric motorcycle. Automobiles and helicopters are fantastic future-machines that mix technology with custom car and fashion design.
Stern Bild City is a wonderland that dots the metropolis of the future with theme park attractions throughout the city. To me, this city looks like a 3D version of Batman's Gotham City as created by Batman creator Bob Kane and artists like Dick Sprang and Jerry Robinson. The city also makes me think of Arcade's Murderworld as drawn by John Byrne in X-Men #123 (Marvel Comics, February 1979).
Everything comes together to make Tiger & Bunny: The Beginning a unique superhero adventure. It is not only unlike any superhero fiction in America, but it is also a grand spectacle that embraces the imagination and sense of wonder that should be inherent in film, television, novels, and especially comic books featuring superheroes. This anime is an action-comedy that both gently pokes fun at and embraces superheroes. Most of all, Tiger & Bunny: The Beginning leaves you wanting more.
Disc 2 includes the following special features:
World Premiere Event
USTREAM Special Digest
Production Art
The main disc also includes several special features – many in the original Japanese audio track – which includes two trailers, promotional videos, commercials, and additional material.
Rating: 9 /10
Last Updated: January 24, 2022 - 11:00