Tiger & Bunny: Volume 7 manga review
By Leroy Douresseaux
August 27, 2015 - 12:12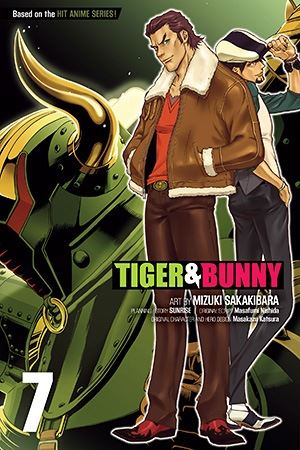 Tiger & Bunny Volume 7 cover image
Rated "T" for "Teen"
Super-powered humans, known as NEXT, began appearing 45 years prior to this story. Some of them fight crime as superheroes in Stern Bild (a re-imagined version of New York City). They promote their corporate sponsors while appearing on the hit television series, Hero TV. The story focuses on veteran superhero, Kotetsu T. Kaburagi (Wild Tiger), and the newest NEXT sensation, Barnaby Brooks, Jr., the "Super Rookie" whom Tiger calls "Bunny." But not all NEXT use their powers for good.
When Tiger & Bunny, Vol. 7 (Chapters 26 to 30) opens, Kotetsu and Barnaby are battling the evil NEXT, Jake Martinez, at Justice Tower. Martinez and his fellow NEXT are the secretive group known as "Ouroboros," and they have invaded the building as part of their plan to assert their superiority over normal humans. And Kotetsu and Barnaby are getting their asses kicked and handed over to them. Can Rock Bison save them and himself?
Meanwhile, former Ouroboros, Edward Keddy, claims that he wants to help defeat his former partners. He leads Origami Cyclone to the group's headquarters, but the obvious questions is could he be leading Cyclone into a trap? Pao-Lin (a/k/a Blue Rose) and Karina Lyle (a/k/a Dragon Kid) are following them to find out.
THE LOWDOWN: As I have previously written, one of my favorite superhero comics is actually a manga. That is the Tiger & Bunny manga, and it is better than most superhero comic book series currently being published by DC Comics or by Marvel.
Tiger & Bunny resembles, to one degree or another, several American superhero comics and concepts, including the X-Men, Justice League of America, the Avengers, "Super Friends," and T.H.U.N.D.E.R. Agents, to name a few. The competition reality show angle adds a twist to the series. Producing content for television or video consumers is as important as fighting evil.
That really comes out in Tiger & Bunny Volume 7. The cynic in me believes that the need to manipulate footage recorded live in order to present the NEXT television stars in the best light is an honest assessment of how a media-obsessed world of superheroes would be. However, the tension between humans and NEXT and the various competing factions that exists within each group is also genuine. The mixture of superhero fantasy action and melodrama with satire makes Tiger & Bunny a unique superhero reading experience. I want to read the next volume now.
POSSIBLE AUDIENCE: Readers looking for an excellent superhero action-comedy will find it in Tiger & Bunny.
Last Updated: January 24, 2022 - 11:00