Tiger & Bunny: Volume 5 manga review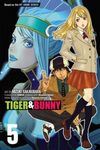 By Leroy Douresseaux
June 16, 2014 - 17:24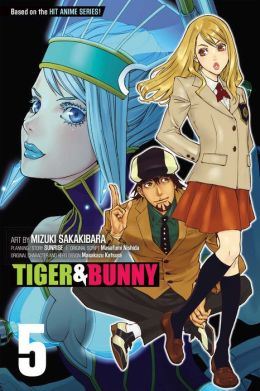 Tiger & Bunny Volume 5 cover image is courtesy of barnesandnoble.com.
Follow me on
Twitter
.
Rated "T" for "Teen"
Forty-five years ago, super-powered humans, known as
NEXT
, started appearing. Some of them fight crime as superheroes in
Stern Bild
(a re-imagined version of New York City). They promote their corporate sponsors while appearing on the hit television show,
Hero TV
. The story focuses on veteran superhero,
Kotetsu T. Kaburagi
(
Wild Tiger
), and the newest NEXT sensation,
Barnaby Brooks, Jr.
, the "Super Rookie" whom Tiger calls "
Bunny
." But not all NEXT use their powers for good.
Kotetsu, Barnaby,
Pao-Lin
(a/k/a
Blue Rose
), and
Karina Lyle
(a/k/a
Dragon Kid
) are babysitting Sam, the infant son of the mayor of Stern Bild. As
Tiger & Bunny

, Vol. 5
(Chapters 18 to 21) opens, their domestic reverie is interrupted by a possible terrorist attack at
Brox Bridge
. As the heroes change plans and prepare for action, they are interrupted by an anti-NEXT mob, putting little Sam in danger.
Meanwhile,
Ouroboros
, a mysterious organization with possible NEXT ties, makes a stronger push into the public sphere.
Exosuits
attack.
Mad Bears
are seemingly everywhere.
Kriem
rises. And who is
Jake Martinez
, the man whose nudity has to be covered up by strategically placed shadows and word balloons?
THE LOWDOWN:
One of my favorite superhero comics is actually a manga. That would be the
Tiger & Bunny
manga, probably the best superhero comic book not being published by DC Comics or Marvel Comics. In fact, I think that
Tiger & Bunny
is better than most and as good as the best DC and Marvel titles.
I see in
Tiger & Bunny
elements from several American superhero comics and concepts, including the X-Men, Justice League of America, the Avengers, "Super Friends," and
T.H.U.N.D.E.R. Agents
, to name a few. A big part of
Tiger & Bunny
is the competition reality show angle, but the series really focuses on the act of being a hero and heroic, particularly through Kotetsu/Wild Tiger.
Tiger & Bunny Volume 5
reaches the point in the series where the story moves away from introducing the main and supporting cast and to establishing the supervillains. These "bad guys" are an intriguing and frightful lot, and I'm ready for more. I think that readers who enjoy superhero comics will find in
Tiger & Bunny
a manga they can like.
POSSIBLE AUDIENCE:
Readers looking for an excellent superhero action-comedy will find it in
Tiger & Bunny
.
Rating: A+ /10
Last Updated: August 31, 2023 - 08:12