New People Cinema Has Special "Tiger & Bunny" Screening
By The Editor
March 12, 2014 - 16:41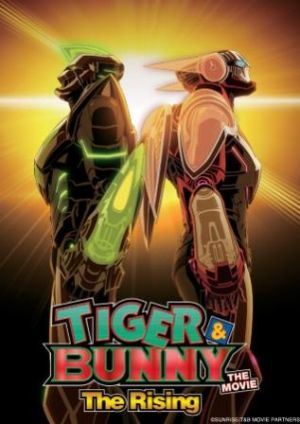 Tiger & Bunny The Movie: The Rising movie poster
VIZ MEDIA ADDS TIGER & BUNNY THE MOVIE: THE RISING SAN FRANCISCO NEW PEOPLE CINEMA THEATRICAL SCREENING
22 Major U.S. Cities To Screen The All-New Anime Action Film From The Smash Hit Japanese Superhero Franchise
VIZ Media has announced a special theatrical screening of the new anime feature film TIGER & BUNNY THE MOVIE: THE RISING for fans based in the San Francisco Bay area on March 22nd at the NEW PEOPLE Cinema, located inside the dynamic Japanese pop culture entertainment venue in San Francisco's Japantown at 1746 Post St. In partnership with ELEVEN ARTS, the second and latest action-packed feature film in the smash hit Japanese superhero franchise is also debuting in a national theatrical premiere at select theaters in 21 U.S. cities Friday, March 14th through March 26th.
TIGER & BUNNY THE MOVIE: THE RISING, which premiered in Japan in February, will screen at the ultra-modern NEW PEOPLE Cinema on Saturday, March 22nd at 2:30pm and again at 6:00pm. Pre-sale tickets for the special NEW PEOPLE premiere are on sale now for $15.00 each (plus service fees) and are available exclusively at the theatre box office or at: www.brownpapertickets.com/event/582176. A special TIGER & BUNNY premium clear movie file card and a full-color mini double-sided poster also will be given to attendees while supplies last. Additional screening information is also available from the NEW PEOPLE website at: www.newpeopleworld.com/schedule/2014/2/14/tiger-bunny-the-movie-the-rising.
For moviegoers outside of the San Francisco area, TIGER & BUNNY THE MOVIE: THE RISING will screen in an additional 21 U.S. cities including New York, Boston, Chicago, Portland, Los Angeles, San Diego, Seattle, Houston, Miami and more. Tickets are currently on-sale for $15.00 each. Attendees will each receive the free 12" x 18" premium cardstock movie mini-poster and exclusive clear movie file card while supplies last. Please visit www.elevenarts.net/th_gallery/tigerandbunny-therising/ for a complete list of cities and advance ticket sales.
In TIGER & BUNNY THE MOVIE: THE RISING, the heroes are back in an all-new feature-length film! Kotetsu T. Kaburagi, a.k.a. Wild Tiger, and Barnaby Brooks Jr.'s partnership comes to a sudden end when Apollon Media's new owner Mark Schneider fires Kotetsu and moves Barnaby back into the First League, pairing him up with Golden Ryan, a new hero with awesome powers and a huge ego to match. When the heroes are sent to investigate a string of strange incidents tied closely to the city's Goddess Legend, they discover three superpowered NEXTs plotting to bring terror and destruction to Stern Bild.
VIZ Media is the also distributor of the TIGER & BUNNY manga series (rated 'T' for Teens), which features artwork by Mizuki Sakakibara and is based on the massively popular animated series, created by the famed Tokyo-based anime studio Sunrise. VIZ Media also licenses and distributes the popular TIGER & BUNNY feature film and anime series that are available on DVD/Blu-ray.
More information on the TIGER & BUNNY anime is available at: www.facebook.com/TigerAndBunny and VIZAnime.com/tiger-and-bunny/
For more information on manga titles available from VIZ Media, please visit www.VIZ.com.
Last Updated: September 6, 2021 - 08:15