Tiger & Bunny: Volume 4 manga review
By Leroy Douresseaux
February 11, 2014 - 16:29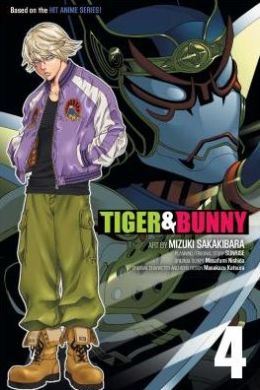 Tiger & Bunny Volume 4 cover image is courtesy of barnesandnoble.com.
Rated "T" for "Teen"
Tiger & Bunny takes place in a world where 45 years earlier, super-powered humans, known as NEXT, started appearing. Some of them fight crime as superheroes in Stern Bild (a re-imagined version of New York City). They promote their corporate sponsors while appearing on the hit television show, Hero TV (or HERO TV). The story focuses on veteran superhero, Kotetsu T. Kaburagi (Wild Tiger), and the newest NEXT sensation, Barnaby Brooks, Jr., the "Super Rookie," whom Tiger calls "Bunny."
As Tiger & Bunny, Vol. 4 (Chapters 14 to 17) opens, the heroes take on the deranged NEXT killer, Lunatic. Lunatic's vigilante activities against murderers and other violent criminals has unsettled the public, and that makes the NEXT less popular. In a bid to make things better, Apollon Media launches the "Believe in Heroes Campaign"
That begins with a lecture at the Hero Academy, which trains the NEXT to be heroes. Kotetsu and Barnaby are the lecturers, and Origami Cyclone joins them. This return to the academy, however, brings up a tragic incident involving Origami and a fellow student. Also, the heroes play babysitters to a special child.
THE LOWDOWN: It's a bird. It's a plane. It's the Tiger & Bunny manga, probably the best superhero comic book not being published by DC Comics or Marvel Comics. And it is just as good as many of DC and Marvel's best titles.
As I warned you before, dear readers, you should probably take my reviews of Tiger & Bunny with that proverbial grain of salt (or any of other seasoning), because I am a big fan of this series. Instead of mocking superheroes, Tiger & Bunny is a comedy about superheroes with convincing "superhero-fantasy action violence."
Tiger & Bunny Volume 4 offers more of what Tiger & Bunny mangaka, Mizuki Sakakibara, does best – adapt the anime into a comic book with heart and humor. Readers will feel the heartrending story of Origami and his friend, but they will laugh at the inept babysitters. Tune in tomorrow – I'm ready for more now.
POSSIBLE AUDIENCE: Readers looking for an excellent superhero action-comedy will find it in Tiger & Bunny.
Rating: A /10
Last Updated: May 19, 2020 - 12:25