Pokemon: Arceus and the Jewel of Life
By Leroy Douresseaux
March 20, 2011 - 07:35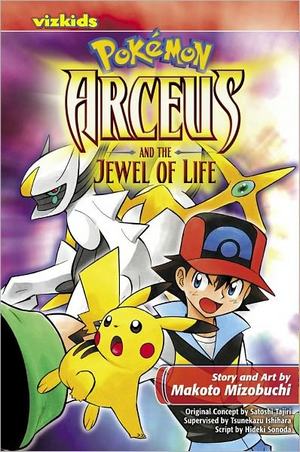 Pokemon: Arceus and the Jewel of Life cover image
Rated "A" for "All Ages"
Pokémon: Arceus and the Jewel of Life is a self-contained Pokémon graphic novel. It is the comic book adaptation of the 2009 animated movie, Pokémon: Arceus and the Jewel of Life, the 12th in the Pokémon film series. The movie was released on DVD in North America in February of this year.
As usual the stars of this Pokémon story are Ash Ketchum, the young boy on a quest to become a Pokémon master, and his partner, Pikachu, a Pokémon (the highly-sought after creatures of this series). Pokémon: Arceus and the Jewel of Life focuses on a mythical Pokémon named Arceus. Long ago, Arceus gave the Jewel of Life to a human named Damos, who used it to bring prosperity to a barren land known as Michina. Later, Damos betrayed Arceus, who has now risen after many ages later seeking revenge against humans.
Ash and Pikachu join their friends Dawn and Brock to help Sheena, an ancestor of Damos, try to stop Arceus' rampage. This means a trip in time, but will they be in time to stop Damos from betraying Arceus, again?
For adults, Pokémon: Arceus and the Jewel of Life will be a quick read. This is, however, a kodomo manga (comics for children), and I imagine that most six-year-olds could read it. If they are Pokémon fans, they will want to read it. I find it cute and entertaining, but noticed that several characters were introduced and dropped, leaving me to wonder what was the purpose of introducing them in the first place. A young Pokémon reader probably won't think about that and will likely think more of this manga than I do.
Last Updated: May 19, 2020 - 12:25