Superman: The High-Flying History of America's Most Enduring Hero
By Leroy Douresseaux
Jun 12, 2012 - 15:39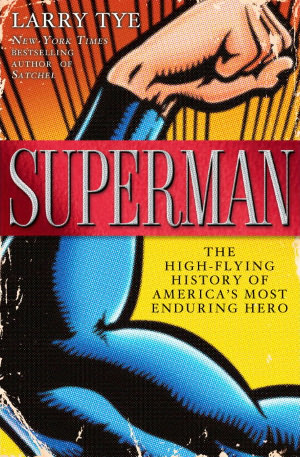 Superman: The High Flying History of America's Most Enduring Hero cover image
Superman: The High-Flying History of American's Most Enduring Hero is a new book from author, Larry Tye, a former journalist for The Boston Globe. Tye is perhaps best known for Satchel: The Life and Times of an American Legend, his 2009 biography of Negro League baseball pitcher, Satchel Paige. In a sense, this comprehensive history of Superman is also the life and times of an American legend, and a good one at that.
Tye's Superman book is a history of Superman, sort of a fictional biography that looks at his allies and adversary, his powers, his struggles and ordeals – his mythology, if you will. However, Superman: The High-Flying History of American's Most Enduring Hero is also the story of the comic book creators, owners, writers, artists, and businessmen, as well as the people in television, film, and radio who made Superman into an international icon and one of the most famous fictional characters of the last one hundred years.
The story of Superman begins in America's heartland, in the depths of the Great Depression. In Cleveland, Ohio, a shy, awkward teenager named Jerry Siegel dreamed up the hero he needed, but it turns out the world in which Jerry lived also desperately needed a hero just like the one he created. Joined by neighborhood pal and aspiring artist, Joe Shuster, Siegel brought to life Superman, the star of a hoped for newspaper comic strip. Fate brought Superman to a new medium, the comic book, and before long he was a media and merchandising star. Tye writes that he has drawn upon newly revealed sources (including Jerry Siegel's unpublished memoir) to tell the story of Superman and the real-life people behind the superhero also known as the Man of Tomorrow.
Superman: The High-Flying History of American's Most Enduring Hero is not the kind of book that will compete for the Pulitzer Prize in the categories of "Biography or Autobiography," "Feature Writing" or "History." This book is a broad overview mostly about Superman and the people at National Comics Publications (which would later be named DC Comics) who would turn Superman from an idea and a few pages of comics produced by two young men in Cleveland into a global brand and icon. The book also covers the people who brought Superman to life on radio and in films, television series, and animation.
In that sense, Superman: The High-Flying History of American's Most Enduring Hero is essentially a book-length feature article with elements of history and biography, and that's probably for the best when an author is trying to cover everything about Superman – fictional and real. There are over 70 years worth of multiple comic book series featuring the Man of Steel and spin-off characters, plus all the supporting characters, villains, and faux-mythology related both to the main character (Superman) and those spin-offs. As for the people behind Superman: well, that story that starts before Superman ever appeared in a comic book (Action Comics #1, April 1938); it goes back to the late 19th century and the birth of magazine entrepreneur, Harry Donenfeld, in Romania. Then, there are the people who, for over seven decades, have brought Superman to life in a variety of mass media formats: newspapers, television, film, etc.
There are so many people that Tye can only offer a few highlights (and low lights) about the prominent ones. Reading this, I get the idea that there are even better stories about a lot of these people that would fill a separate book. I know there's a great book about Jerry Siegel and Joe Shuster's relationship waiting to be written, to say nothing of the riveting read the tale of the relationship between Siegel and his boss, Jack Liebowitz, would be.
Still, this is a fun read. Tye's foray into the life of actor George Reeves of the classic 1950s TV series, The Adventures of Superman, seems to be right out of CBS' "48 Hours" or "E's True Hollywood Stories." Tye's account of the birth of Superman: The Movie is some of the best film history I've read in years.
I wished that there was more about certain individuals, but this is still a good book. People who want to know more about Superman will not go wrong with Superman: The High-Flying History of American's Most Enduring Hero.
Rating: 7.5 /10
Last Updated: Jun 26, 2018 - 9:28