Comics / Manga / Yaoi Manga
Makoto Tateno's How to Capture a Martini
By Leroy Douresseaux
Mar 4, 2010 - 10:41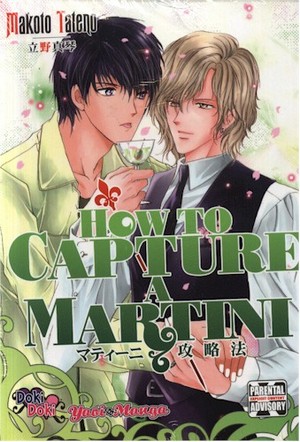 How to Capture a Martini cover image is courtesy of Anime Castle Books.
Drama/Romance; Rated "18+ Mature"
One of the most surprising college experiences I ever had came when an English professor recounted the night he took his wife's virginity. He was definitely a master of the English language because everything he said – from lectures on literature to stories about everyday life – was crystal clear and could be understood by anyone. Besides, such a story as the professor told is pretty potent, anyway.
That little tidbit brings me to the recently released Makoto Tateno yaoi manga, How to Capture a Martini. It would seem that with such a title, this manga would be filled with innuendo built upon words like "shaken," "stirred," and "stick," as metaphors for sex. The title, "How to Capture a Martini," is related to a task presented to one of the characters. However, the manga is really about the ideal and the reality of first love, and not just first love in the sense of losing one's virginity, although virginity and loss of innocence are important themes in the story.
When Naoyuki Hibino was an underclassman in high school, he fell in love with a senior who was two years older than him, Shinobu Okada. After Okada graduated, he disappeared from Hibino's life without a word. Hibino surprisingly finds Okada working in a chic city bar, the Maria Elena. Even more shocking, Hibino discovers that Okada uses the bar to pick up men for one night stands!
Katsuragi, the bar's owner, is amused by the drama Hibino and Okada's reunion has brought to his bar, so he offers Hibino a job. The exotic drinks flow freely, but so do the backroom, back alley, against the bar, late-night, early in the morning trysts. Hibino wants to rekindle his romance with Okada, and he also wants answers as to why Okada chose to vanish four years ago. But will the cool and distant Okada give Hibino what he wants?
In How to Capture a Martini, there is this juxtaposition of love of the ideal and lust for flesh that makes this a hot manga to read. Makoto Tateno builds the conflict and tension in her narrative by confronting her horny young lovers with the dilemma of loving innocence, yet yearning to despoil that innocence. That is the conflict: the characters must be honest with themselves about both their romantic love of and lust for that special someone in their lives.
This character drama also comes with some of the most genuinely fiery depictions of passion presented in a Tateno yaoi manga. Tateno doesn't skimp on the sex and even offers some incest and role playing. A fine character drama, How to Capture a Martini will appeal to both readers' prurient interests and their desire for romance.
A-
To read more of my work, visit www.negromancer.com
Last Updated: Jun 26, 2018 - 9:28