Comics / Manga / Yaoi Manga
Makoto Tateno's 9th Sleep (Yaoi)
By Leroy Douresseaux
Mar 1, 2010 - 11:52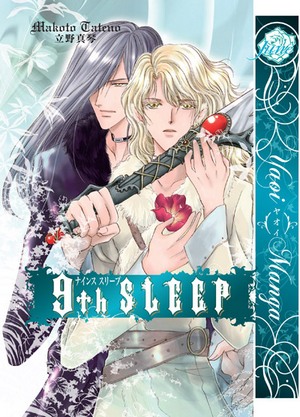 9th Sleep cover image
Fantasy/Romance; Rated "16+ Young Adults"
Although 9th Sleep, a manga from prolific creator Makoto Tateno, is published under Digital Manga Publishing's June imprint, it is not yaoi, as it does not feature explicit depictions of sex between male characters. 9th Sleep is boys' love (of which yaoi is a subset), of a sort.
Sixteen-year-old Luke lives alone with his mother, Marian. Luke knows that he was born because of an immaculate conception, as his virginal mother conceived without the aid of a man. Of late, Luke has been having strange dreams of a shadowy sleeping woman. Perhaps, his dreams have something to do with the "God" who saved the dying planet that is Luke's home.
Suddenly, a mysterious sword-wielding stranger abruptly comes into Luke's life. Possessing a terrifying beauty, this seductive stranger calls himself Malchus. Luke and Malchus are fated to fight each other – perhaps to the death, but what happens when they start to think about and to question the origins of their unbreakable, undeniable bond.
THE LOWDOWN: While 9th Sleep is not really boys' love, in the sense of being about romantic love between two male characters, the story is ultimately about the strong love between two men. Perhaps, the term that best fits 9th Sleep is "bromance," a term combining the words "brother" and "romance" and means a strong, non-sexual love between two or more men.
9th Sleep's scenario is the usual kooky, weird, sci-fi/fantasy scenario from Makoto Tateno, the creator of Angelic Runes and Steal Moon. Tateno is not quite the Ed Wood of yaoi manga, but these plots are ridiculous. Still, there is something intriguing about how way she always puts love at the heart of her pulpy nonsense.
POSSIBLE AUDIENCE: Fans of Makoto Tateno will want 9th Sleep.
B
Read more of my work at www.negromancer.com
Last Updated: Jun 26, 2018 - 9:28