Comics / Manga / Yaoi Manga
Makoto Tateno's Blue Sheep Reverie: Volume 1
By Leroy Douresseaux
Jan 12, 2009 - 11:10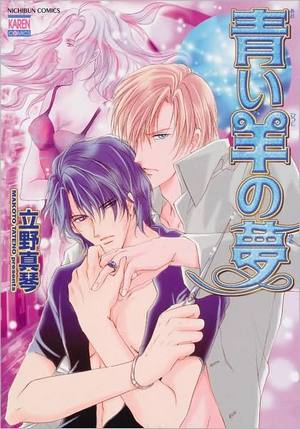 The art featured on the cover of the Japanese edition of Blue Sheep Reverie (above) is also used for June Manga's edition.
Rated "M" for "Mature Audiences 18+"
Seething with a need for revenge, Kai Kouda stalks the streets of a city whose name in many languages translates to "Sunrise." Once upon a time, Kai was a sweet, young teen boy taught about love by a compassionate woman named Maria. Then, Kai finds Maria brutally murdered.
Now, he wanders the pitch-black, inner city streets of Sunrise, where he suddenly finds himself in the middle of a brutal gang war between the Sarte Group and the Mynah Group. After he meets the leader of Sarte, Lahti Bara AKA Steel Lahti, Kai suspects him of being Maria's murderer, so Kai does what most murder investigators wouldn't think of doing. He becomes Lahti's lover in hopes of getting close enough to learn some truths.
The works of manga-ka Makoto Tateno, to one degree or another, involve a science fiction setting. In fact, Tateno seems to prefer her sci-fi settings and conspiracy-laden plots over the staple of Boys' Love (BL) manga – romance between males – and the core of BL's subset, yaoi manga – explicit depictions of sex between males. Blue Sheep Reverie, Vol. 1 is a perfect example of this. The plot is obtuse, almost oblique, as she painstakingly reveals the important characters, concepts, conflicts, etc. crucial to the plot. Even the city of Sunrise, the setting of Blue Sheep Reverie, is slow to roll out, in terms of revealing the city's character and mysteries.
The art is also inconsistent. The figure drawing is sometimes amateurish, even poor – especially compared to Tateno's other work. On the other hand, the composition and design of panel content is quite imaginative. In fact, it's the emphasis on design and style in the art that keeps this story interesting. In her dystopian sci-fi manga (like Steal Moon), Tateno's visual ingenuity enlivens what might be an otherwise poor concept, which is promising for the rest of Blue Sheep Reverie.
B-
Shop for Yaoi Delights.
Last Updated: Jun 26, 2018 - 9:28