Comics / Manga / Yaoi Manga
Makoto Tateno's Hero-Heel 2
By Leroy Douresseaux
Sep 15, 2008 - 10:41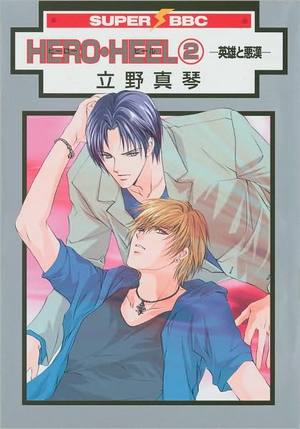 June Manga keeps the cover illustration from the Japanese edition, but changes everything else for its edition.
Drama/Romance; Rated "M" for "Mature Audiences 18+"
Hero-Heel 2 is the second volume in manga-ka Makoto Tateno's behind-the-scenes series, which looks at love on the set of a Japanese sci-fi, superhero television series. There's as much relationship drama as there is stage drama in this histrionic yaoi manga series.
Masaki Minami plays Oreas, the star of the sci-fi series, Trans-Dimensional Warriors Airguard; Kazuomi Sawada plays the villain, Gadriel. Minami and Sawada were engaged in a relationship that fell apart, and Minami (in the previous volume) botched the makeup. Now, Minami and Sawada are adversaries just like their TV counterparts, and the cast and crew are starting to notice the icy air between the two. But that's not all the drama…
Yorito Takagi, Sawada's former lover and former co-star on another series, has arrived to guest star in a Trans-Dimensional Warriors Airguard summer special. Their breakup was also tumultuous, but Takagi is looking for a reunion, while Sawada's still miffed. Meanwhile, cast member Kousuke Katagiri is determined to make Minami forget Sawada, even if he has to force himself on Minami to do it.
THE LOWDOWN: With its strong emphasis on relationship drama, Hero-Heel 2 is quite engaging, although it sometimes seems comically over the top. Makoto Tateno (Steal Moon, Ka Shin Fu) gives an emphasis and attention to detail to the love and romance here that feels like a prose romance novel. She's also able to draw skinny, pretty boys (with long, wavy hair) that honestly look masculine, even Masaki Minami when he's getting (essentially) raped!
POSSIBLE AUDIENCE: Yaoi readers who love the art of pursuit and contentious breakups will enjoy the sometimes funny, always melodramatic Hero-Heel 2.
B+
Last Updated: Jun 26, 2018 - 9:28