Makoto Tateno's Angelic Runes: Volume 1
By Leroy Douresseaux
Aug 10, 2009 - 12:56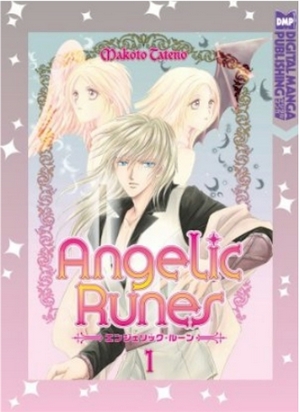 Angelic Runes 1 cover image is courtesy of Anime Castle Books.
Drama/Fantasy; Rated "16+ Young Adults"
Angelic Runes is a fantasy drama from prolific manga-ka Makoto Tateno (Steal Moon, Hero-Heel). The series is set in a world of deceptive and devious monsters, maidens, and shape-shifters and follows a mysterious young mage's journey of discovery.
Sowil wields the power of mysterious runes that can bend nature to his will and even fill his pockets with gold and jewels. For all his power, however, what he really wants is to find his long-lost father, whom Sowil has never met. Along the way of his journey, Sowil rescues a brother and sister set of twins who are also oracles. The female twin is Allueh or "Allu" and hears the voices of demons. The male twin, Erudite or "Eru" hears the voices of angels.
In Angelic Runes, Vol. 1, Sowil and the twins inexplicably find themselves back in the twins' home village, and the villagers are still determined to sacrifice the twins. Next, the trio encounters a water spirit trapped in a dried spring and the local maiden in love with him, but is all really what it seems? Later, Sowil falls into a sleep besieged by troubled dreams, while a figure from his past returns. Finally, Sowil and the twins arrive in a small village hoping to find food and shelter and instead find unfriendly villagers and murder most foul.
THE LOWDOWN: Makoto Tateno can seemingly tackle any genre – from yaoi sci-fi with kinky sex to soap opera filled with sexual politics. Angelic Runes is straight fantasy set in a medieval world filled with strange creatures and powerful magics. Although there is an overarching storyline and goal (Sowil finding his father), as well as major subplots (the origins of Sowil's powers, the purpose of the twins, for example), Angelic Runes is an episodic fantasy in which each chapter is a stand-alone story.
While the stories are uncomplicated and straightforward, they are enjoyable and charming in their simplicity. It would be easy to find fault, but personally, I'm along for the ride on this journey. I want to know all Sowil's secrets.
POSSIBLE AUDIENCE: Readers looking for light "road movie" fantasy will like Angelic Runes.
B+
Last Updated: Jun 26, 2018 - 9:28