Gangsta: Volume 4 manga review
By Leroy Douresseaux
November 24, 2014 - 21:47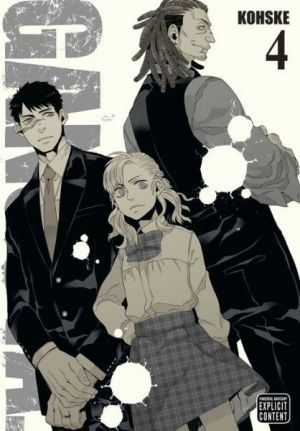 Gangsta Volume 4 cover image is courtesy of barnesandnoble.com.
Follow me on
Twitter
.
Rated "M" for "Mature"
Ergastulum
is a tough city filled everything from mafia types to petty thieves. Here, the law of violence takes precedence over the rule of law.
Gangsta
focuses on the "
Handymen
," 34-year-old
Nicolas "Nic" Brown
and 35-year-old
Worick Arcangelo
. They are the guys who take care of the jobs no one else will handle – from mundane deliveries to extrajudicial killings.
Gangsta

, Vol. 4
(Chapters 17 to 22) opens rather quietly. Worick, Nic, and their roommate, former prostitute,
Alex Benedetto
, are doing repair work on the the shop,
Constance
, the scene of a damaging shoot-out. When Worick and Nic take on a job, Alex even gets one of her own – searching for someone's beloved lost cat. Alex's search, however, leads her into a dire situation that is indicative of the current state of Ergastulum.
Hunters
have infiltrated the city and are killing scores of
Twilights
, the biologically-enhanced super-humans, a group to which Nic belongs. The
Cristiano
crime family has traditionally and secretly been in charge of managing the Twilight population, so the Hunters' war comes to Cristiano turf. As Worick and Nic escort Twilights to a safe house, danger follows them. Who are the brash boy,
Mikhail
, and the killer chick,
Erica
?
THE LOWDOWN:
The
Gangsta
manga recently began revealing the pasts of its star duo, Worick and Nicolas. Now, we get a small glimpse at the past of Alex, including hints about the whereabouts of her missing brother,
Emilio
.
The chapters contained in
Gangsta Volume 4
, however, focus on the war against the Twilights. Creator,
Kohske
, delivers exciting fight comics in her typically brutal storytelling. I love it. This is the action and conspiracy volume that I have been wanting from this hot seinen manga title. New readers should not be reticent about reading
Gangsta
. You really don't need to start at the first graphic novel, and each volume has a summary of events and illustrated glossary of characters. Each volume is a jump-on point, and this is the comic
The Punisher
wishes it could be.
POSSIBLE AUDIENCE:
Readers looking for some violent VIZ Signature action will want to get
Gangsta
.
Rating: A- /10
Last Updated: August 31, 2023 - 08:12