Gangsta: Volume 3 manga review
By Leroy Douresseaux
August 26, 2014 - 23:05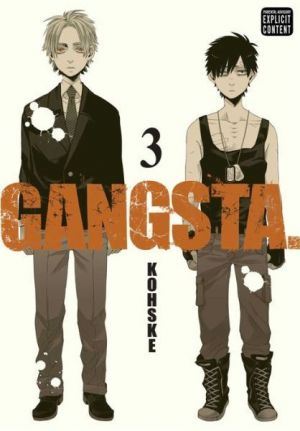 Gangsta Volume 3 cover image is courtesy of barnesandnoble.com.
Follow me on
Twitter
.
Rated "M" for "Mature"
Gangsta
is set in
Ergastulum
. This tough city is filled everything from mafia types to petty thieves. The law of violence takes precedence over the rule of law. Enter the "
Handymen
," 34-year-old
Nicolas "Nic" Brown
and 35-year-old
Worick Arcangelo
. They are the guys who take care of the jobs no one else will handle – from mundane deliveries to extrajudicial killings.
As
Gangsta

, Vol. 3
(Chapters 12 to 16) opens, we meet
Wallace Arcangelo
, a boy who lives on the estate of his wealthy and powerful father. One day,
Captain Gaston Brown
of the
West Gate Mercenary Troops
arrives at the estate. Wallace learns that Brown and his men will provide security for the estate. Wallace even gets his own bodyguard, a sickly boy-mercenary named
Nicolas Brown
.
Wallace finds Nicolas to be too weird, so can either boy find common ground with the other? In the meantime, their respective family strife plants the seeds of tragedy and violence.
Back in the present, a fourth massacre of
Twilights
, the biologically-enhanced super-humans, is discovered. The four families of Ergastulum want answers. How does this affect Worick and Nic, who is a Twilight.
THE LOWDOWN:
After two volumes and sixteen chapters of teasing, the
Gangsta
manga finally begins to reveal the past of its star duo, Worick and Nicolas. Creator,
Kohske
, fashions back story that is so compelling that I did not want to return to the narrative's present.
Gangsta
is unapologetically violent, but
Gangsta Volume 3
spills character secrets as much as it spills blood. The part of the story that takes place in the present isn't as good as the past because much of immediate seems like set-up for the next explosive conflict, but what is next seems like it will be a blast. It's official;
Gangsta
is a genuinely good crime comic and manga.
POSSIBLE AUDIENCE:
Readers looking for some violent VIZ Signature action will want to do that
Gangsta
lean.
Last Updated: August 31, 2023 - 08:12