Gangsta: Cursed Volume 2 manga review
By Leroy Douresseaux
May 19, 2017 - 09:50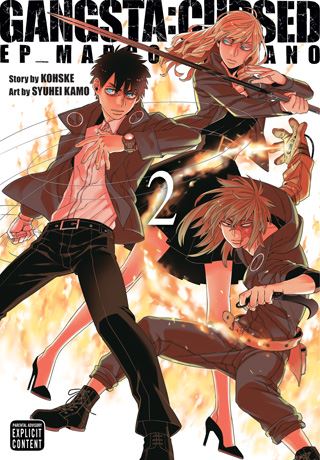 Gangsta: Cursed Volume 2 cover image
Rated "M" for "Mature"
The edgy crime manga,
Gangsta
, has a prequel. It is entitled
Gangsta: Cursed
, and it explores the dark and violent past of key characters from Gangsta. Cursed is written by the creator-writer-artist of Gangsta,
Kohske
, and is drawn by
Syuhei Kamo
.
Gangsta: Cursed

, Vol. 2
(Chapters 4 to 6) opens in
Ergastulum
, the crime-ridden city run by the mob. We meet Marco Adriano, when he was young and was a "
Hunter
." The five-man Hunter team known as the
Destroyers Second Group
continues its slaughter of "
Twilights
," humans who have power and abilities normal humans do not. However, normal humans and Twilights, working for mob boss,
Don Luca
, are fighting back, but the Hunters seem impossible to stop.
Before he was a loyal and beloved member of the Cristiano Family,
Marco Adriano
was "
Spas
," and he was a member of Destroyers Second Group. In the middle of this mission of killing Twilights in
District 1
, Marco begins to have second thoughts, and he makes a decision that will change the lives of those he loves. Plus, Worick and Nic, the stars of Gangsta, make an appearance.
THE LOWDOWN:
When I heard that there was a spin-off series from the Gangsta manga, I was skeptical. After reading the first volume of the Gangsta: Cursed manga, I am impressed.
Gangsta: Cursed Volume 2
is more of a good thing, and if you think Gangsta is a good thing, then, you will be happy. Cursed is one of the most violent manga published under the "VIZ Signature" imprint, and if you like violence in your action, crime, thriller seinen manga, dear reader, that is also a good thing. The prologue and the first six chapters also have a lot of flashbacks, but the main plot line is laser-focused on Marco. Series artist Syuhei Kamo also does an uncanny impersonation of Kohske's drawing style, so that is more continuity in this new series' favor. What's not to like, Gangsta fan?
I READS YOU RECOMMENDS:
Fans of Gangsta and of violent action-thriller manga will want the VIZ Signature,
Gangsta: Cursed
.
A
Last Updated: August 31, 2023 - 08:12